NAPA Voyage Optimization
Weather routing for reducing ship emissions and enhancing safety
Contact Us
Book a demo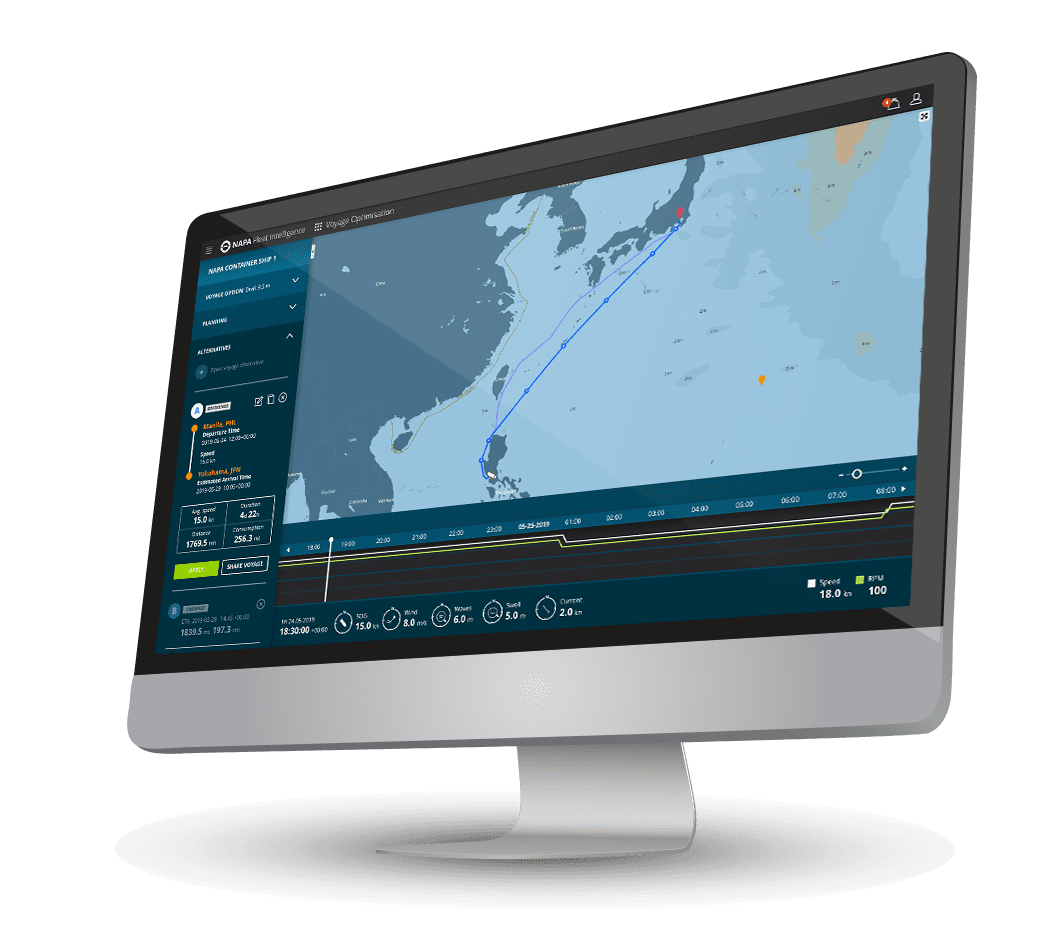 NAPA Voyage Optimization is an easy-to-use solution for improving operational efficiency by optimizing route and speed profiles for any sea passage.
Book a demo
Key features
Related insights
How it works
Benefits
Feature overview
Contact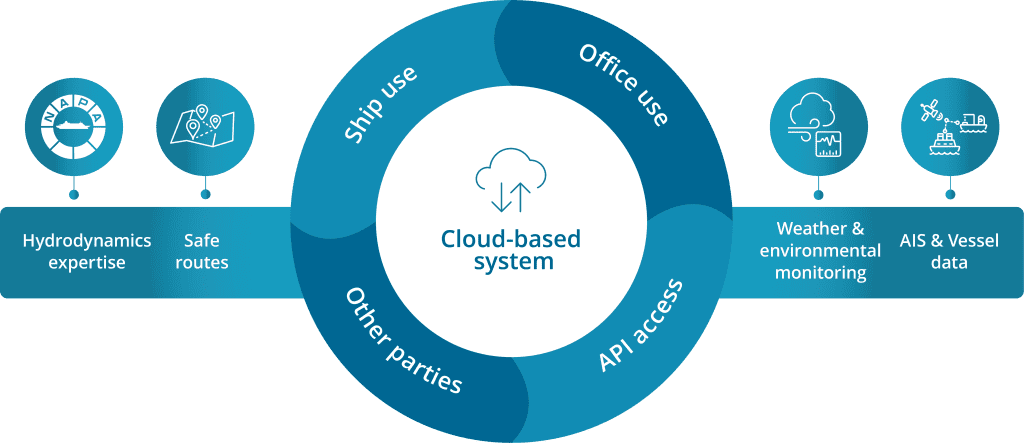 NAPA Voyage Optimization
How it works
A module on the NAPA Fleet Intelligence platform, available both on a web browser and desktop application
Onboard and on-shore tools for increased communication and awareness, boosting collaboration across voyage stakeholders
User-friendly and proven features for daily voyage planning
Weather routing for multiple voyage scenario simulations and comparisons on ETA, fuel cost, environmental performance, and safety
High-accuracy performance model for all commercial ships, dynamically updated with data collected from vessels to reflect the current performance
Available also as an API for 3rd party integration
Book a demo
NAPA Voyage Optimization
Benefits
Operate fuel-efficiently without compromising safety
Improve CII rating (Carbon Intensity Indicator)
Decrease crew workload
Improve voyage estimates by estimating fuel consumption with vessel-specific performance models and weather forecast
Operate the whole voyage with optimum RPM profile while ensuring reaching the port by Laycan
Arrive on the agreed ETA, and calculate the effect of ETA changes during the voyage for negotiating the demurrage rate of the delayed days and sharing of fuel reduction benefit between operator and charterer
Increase Time Charter Equivalent earnings by making better deals, optimizing speed profile and route, and taking advantage of Virtual Arrival or Sea Traffic Management BIMCO clauses
Increase efficiency in making and altering the voyage plans by improving communication possibilities with operator and crew
Lower Scope 3 emissions
Use the same performance model, environmental forecasts, and optimization algorithms on your own simulations and comparisons as the operator and the crew are using
Decrease costs through improved scheduling, schedule adjustment processes, and improved route and speed profile optimization
Reduce the risk of cargo loss, delays, or unnecessary expenditure with enhanced visibility into vessel operations and being actively involved in the voyage planning and execution
Overview of NAPA Voyage Optimization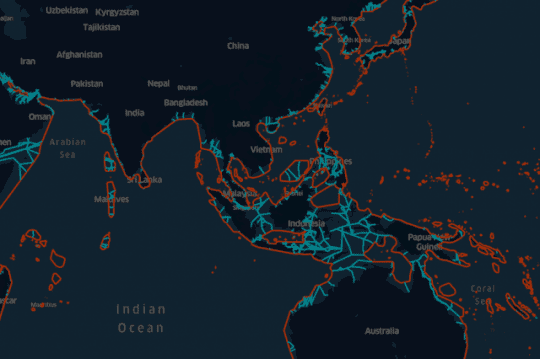 Overview of NAPA Voyage Optimization
Routes
Port to port connections
Vessel draft and UKC requirements (Under Keel Clearance) considered in route finding
Usage of channels automatically restricted by vessel size, or disabled manually by end-user
Route optimized freely on open sea areas while respecting predefined fairways and traffic separation schemes
Overview of NAPA Voyage Optimization
Planning
The latest vessel position updates automatically
Port search to quickly find destinations or user-specified coordinates
Open / Save your own plans or import & export from/to other formats (RTZ and proprietary ECDIS formats)
Specify the primary speed control method for routing
Route alternatives are found using selected target, such as daily profit maximization or overall cost reduction
Channel restrictions are considered in the proposed routes (TSS, Suez Canal, Panama Canal, etc.)
Expected delays from canal passing are automatically taken into account in ETA estimation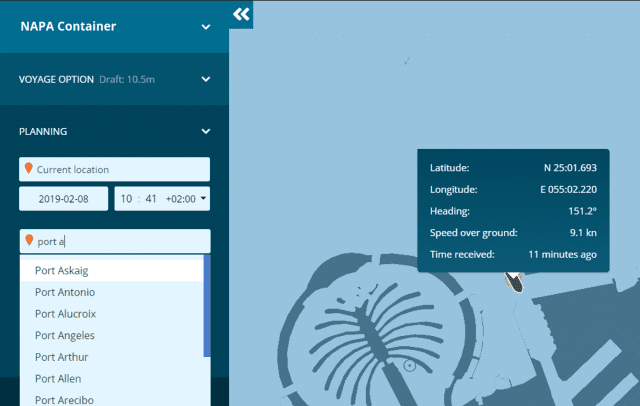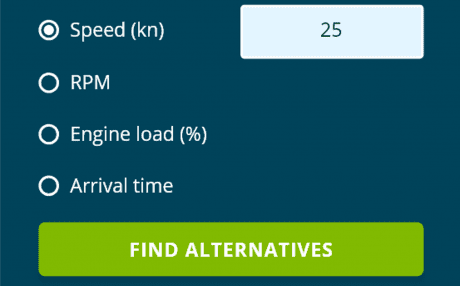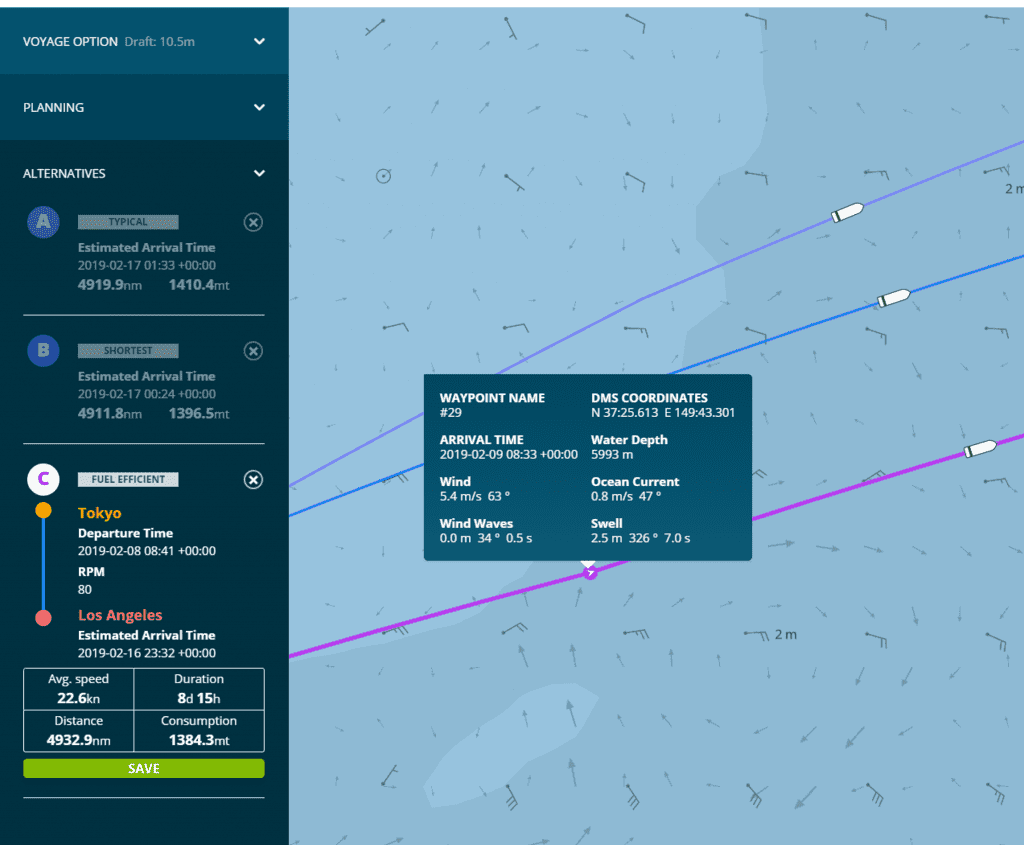 Overview of NAPA Voyage Optimization
Alternatives
Benchmark optimized option against the shortest, or a user-selected voyage
Key performance indicators are shown in an easily comparable way
Table view available for further details
Compare different routes or the same route with different schedules
Alternatives can be edited, while the effect on schedule and cost is immediately seen
Save or share voyages for later use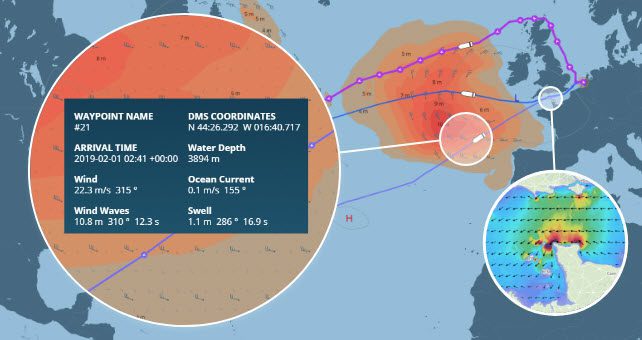 Overview of NAPA Voyage Optimization
Map and weather information
All relevant parameters covered and considered in the optimization
Global environmental data forecasts supplemented with locally higher resolution forecasts
Map layers for the relevant geographic areas, such as Emission Control Areas or Piracy Risk Areas
Global distribution of weather and map data ensures a good user experience
Most important weather information clearly shown on all zoom levels
Weather information and the ship's predicted position always in sync
Weather forecast can be shown to any selected point on the voyage timeline
More details on weather conditions available on closer zoom levels
Climatology database will be used beyond reliable forecast span (seasonal, sea area-specific conditions)
Tropical storm forecast with predicted track
Weather forecasts validated by the weather service provider and in our own studies (Read: The role of accurate nowcast data in ship performance analysis)
Overview of NAPA Voyage Optimization
API access
API access is available for use cases such as:
Onboard voyage planning application needing weather routing for the open sea passage of the voyage
Voyage estimate calculations in a shipping ERP software needing accurate fuel consumption estimates, which consider the most probable weather conditions
A shipping company's internal KPIs needing calculations on what is the cost of anchorage time, how much could have been saved by from weather routing, or benchmarking the performance of different weather routing services
A consultancy services for weather routing in need of more scalable IT tools for the fuel consumption estimates
Free access is available for academic purposes; for example, evaluating emissions on different ship types and trading routes, evaluating the saving potential of different fuel-saving devices, or saving potential of improving the operational efficiency of ports by enhanced scheduling systems.
A clear documentation is available for all endpoints:

Book a demo
Questions?
Get more information
Fill in the form and we will be happy to respond to your questions and introduce our offering in more detail.
You can also be in touch with your local office directly.
By submitting the form, I consent my information to be used according to NAPA's privacy policy.