Beyond Fuel Reduction: Sustainable and Efficient Ferry Operations Without Losing Sight of Safety
Download Presentation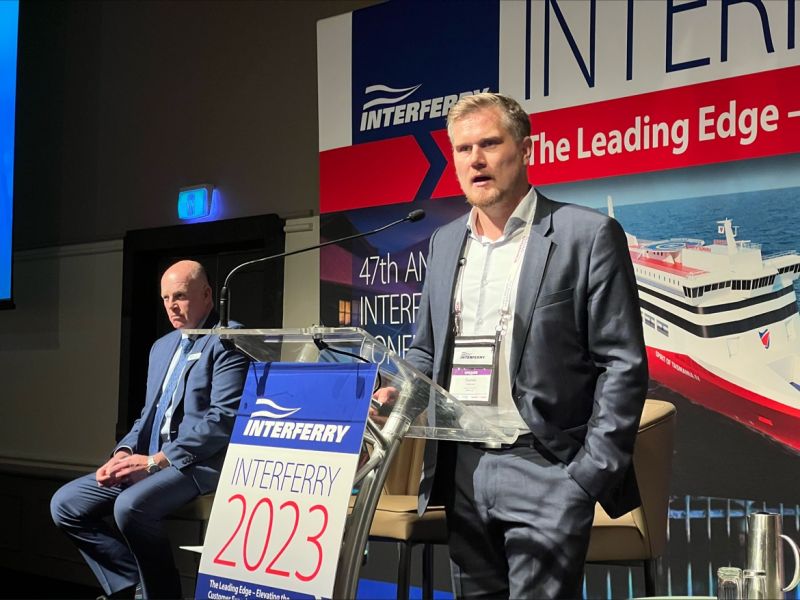 How digital tools and d

ata can help operators to predict, test,

plan and even make strategic decisions to sail safety, more efficiently and sustainably

.
During "Optimizing Operations and Safety" at the 47th Interferry Conference 2023, our Account Director for Ferry & RoPax Business, Tuomas Häkkinen spoke about "Beyond Fuel Reduction: Sustainable and Efficient Ferry Operations Without Losing Sight of Safety".
With the increase in uptake of alternative fuels and new clean technologies, ship owners  and operators need to equally ensure that efficiency and safety go hand in hand. Using the power of digital technologies, operators can tap into the wealth of data to make better informed and strategic decisions for safer and smarter shipping.
In this presentation, Tuomas discusses how operators can optimize both operational efficiencies and safety while meeting decarbonization targets through the efficient use of operational data. He touches upon four burning challenges, and discusses possible solutions along with case examples:
Cutting emissions with ​fixed itineraries in competitive routes
Complex reporting and Compliance
Information gap ​between ship & shore
Ensuring safety of ​operations in hectic environment
Want to learn more?
Download Presentation
---
Get in touch
Our experts would love to share how NAPA can help you with your ship operations data. Or, you can also start by reading more about our solutions for Ferry and RoRo ships.