Software and data services for cruise ship safety, operations and design
NAPA is the market leader for ship stability management and safety data services for cruise ships. Our cutting-edge solutions have global users across all leading cruise fleets ⁠— onboard and onshore. Our ship design software is the global de facto standard in shipbuilding, while our cloud-based fleet intelligence solutions help maritime businesses make better and greener decisions, future-proofing their tomorrow.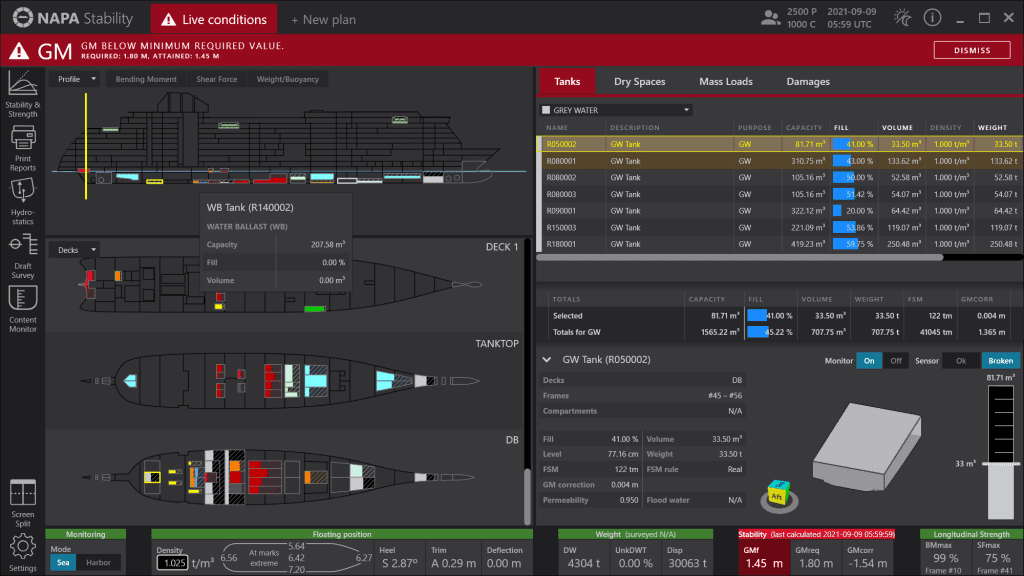 For onboard safety and efficiency
Stability solution
The most trusted stability management solution for passenger ships and christened as the 'next-generation loading computer', NAPA Stability, assists onboard experts with all their stability management needs and more.
Real-time intact and damage stability calculations.
Easy monitoring and faster response with color-coded stability status overview.
Smooth planning with dedicated windows for different work processes.
Deadweight management for greater fuel efficiency, while maintaining stability.
Ahead of regulations, fulfilling IACS UR L5 Type 4 requirements, enabling Safe Return to Port.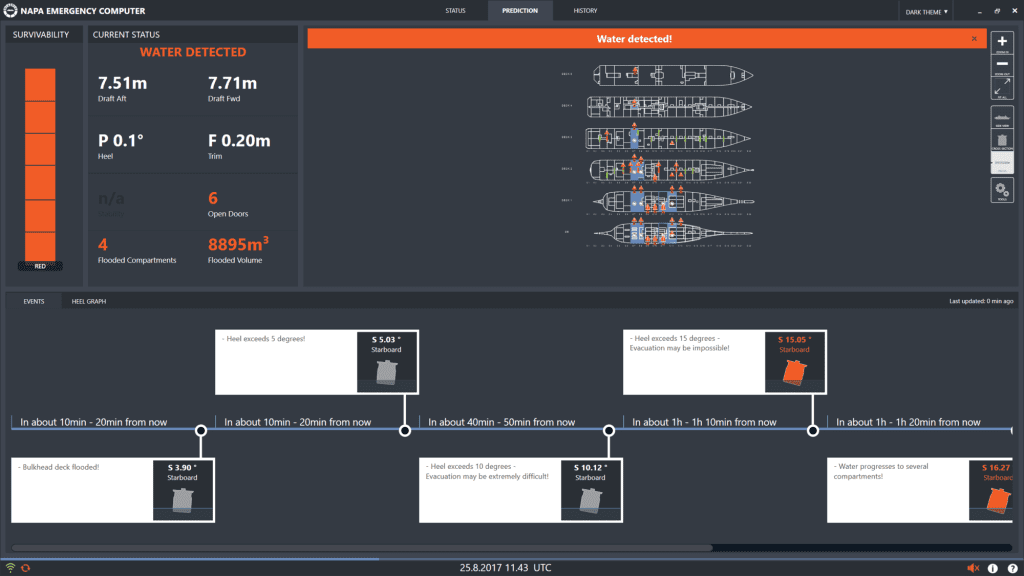 For onboard safety and efficiency
Emergency computer for cruise ships
The ship and the shore must always be aware of the exact vulnerabilities and be able to respond faster in case of emergency – exactly what the NAPA Emergency Computer is built for.
Color-coded vulnerability status for everyday use.
Monitoring of faulty sensors, open watertight doors and sea conditions.
Notifications for preventative actions.
Highly realistic drill simulation for better preparedness.
Exact situation awareness with Vessel TRIAGE categorization, if damaged.
Decision support with dynamic survivability prediction.
Special advisory cards for handling flooding.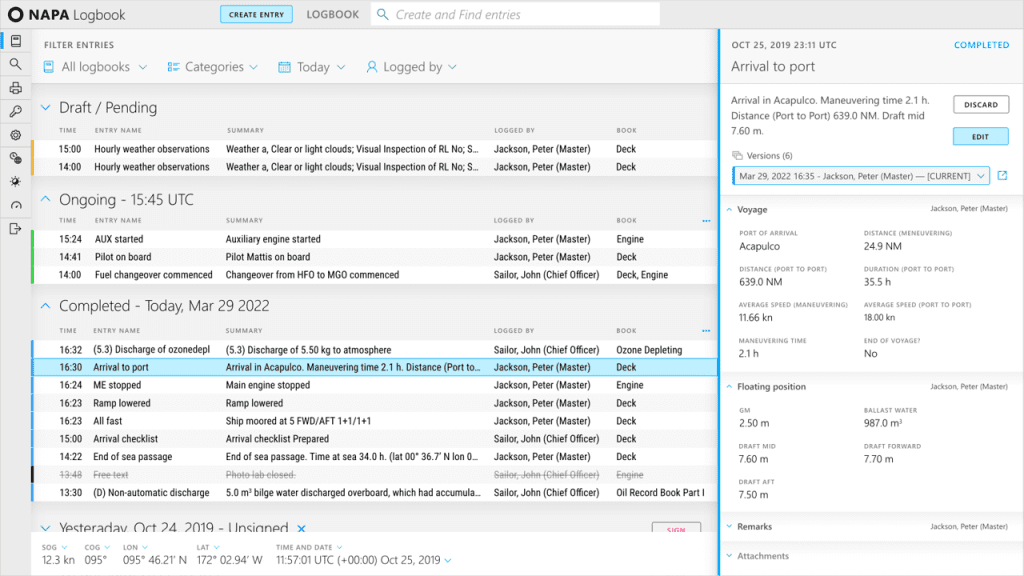 For onboard safety and efficiency
Electronic logbook for easy entries
As regulations become stringent with stricter record-keeping requirements, NAPA Logbook takes some pressure off the crew by automating logbook entries. Approved by over 20 major Flag States along with DNV type approval, the logbook is trusted by over 10,000 global users for faster, easier and error-free, record-keeping, reporting and compliance.
Quick, error-free entries with auto fill-ins.
Standard format and automated calculations.
Logging and approving entries from anywhere with the mobile app.
Easy monitoring of onboard situation with digital Status Board.
Smoother routines with electronic checklists.
Get a demo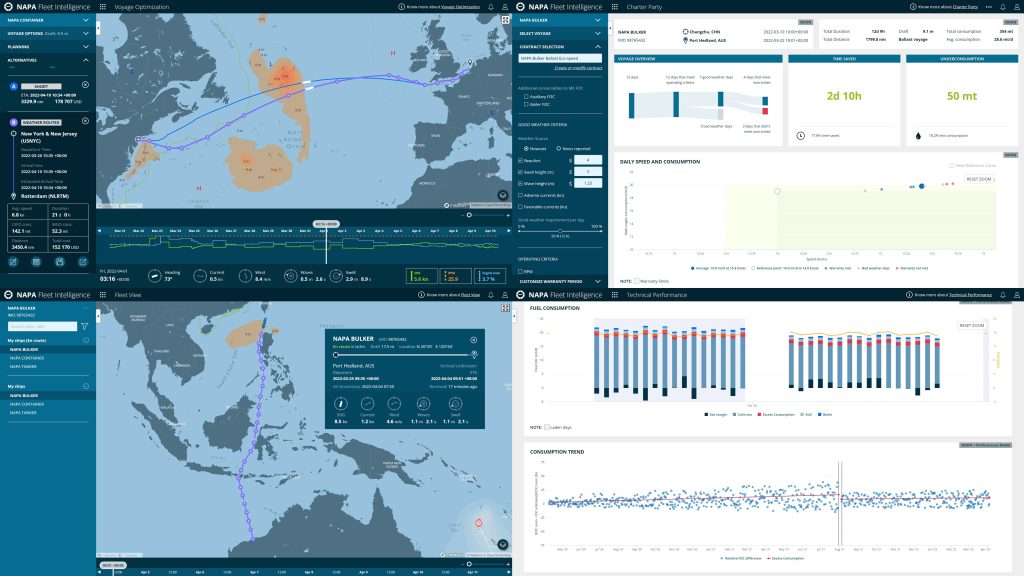 For shoreside fleet intelligence
Monitoring, data analysis and voyage planning
Combining data from various onboard NAPA solutions along with automation systems and third-party sources, NAPA Fleet Intelligence, our cloud-based platform, creates a comprehensive operational profile of the vessel. This enables safety and voyage optimization, testing new operational plans to even validating long-term strategies like new ship designs, retrofitting new energy systems, and more.
With various NAPA Fleet Intelligence reporting modules, you can monitor and analyze your ships' operational, technical, regulatory, and safety performance. Tailor the service flexibly by selecting those modules that match your needs.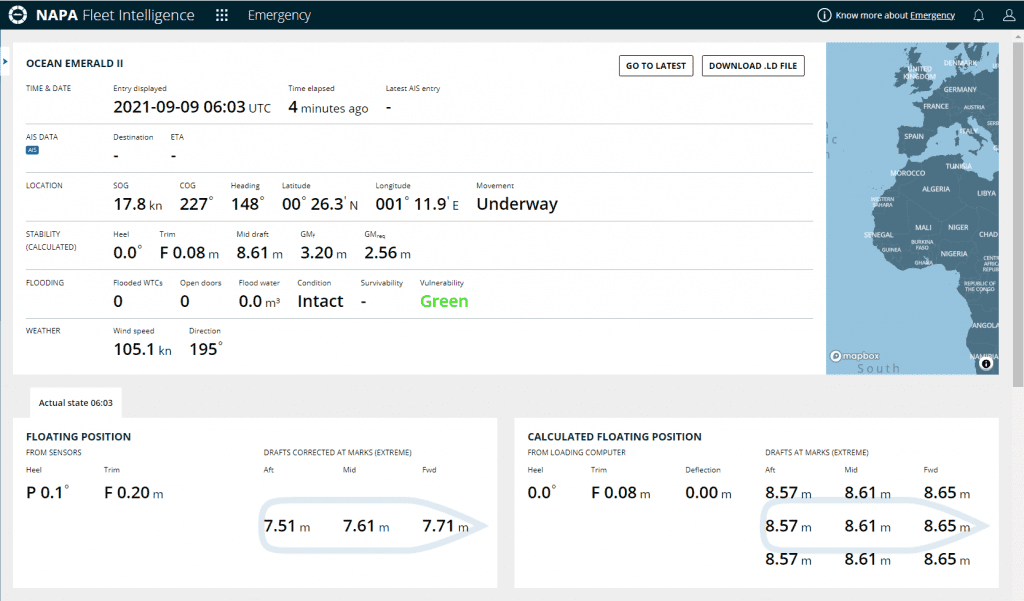 For shoreside fleet intelligence
Stability data shared in real-time
NAPA Stability connects to NAPA Fleet Intelligence to revolutionize how ship operators manage daily vessel stability from the shoreside.
Real-time monitoring of safety status throughout a voyage.
Improved voyage planning and deadweight management with hyper-realistic simulations.
Benchmarking operational trends across the fleet to spot optimization opportunities.
Historical data as feedback for better efficiencies and ship design.
Live situational awareness to support swift responses in emergencies.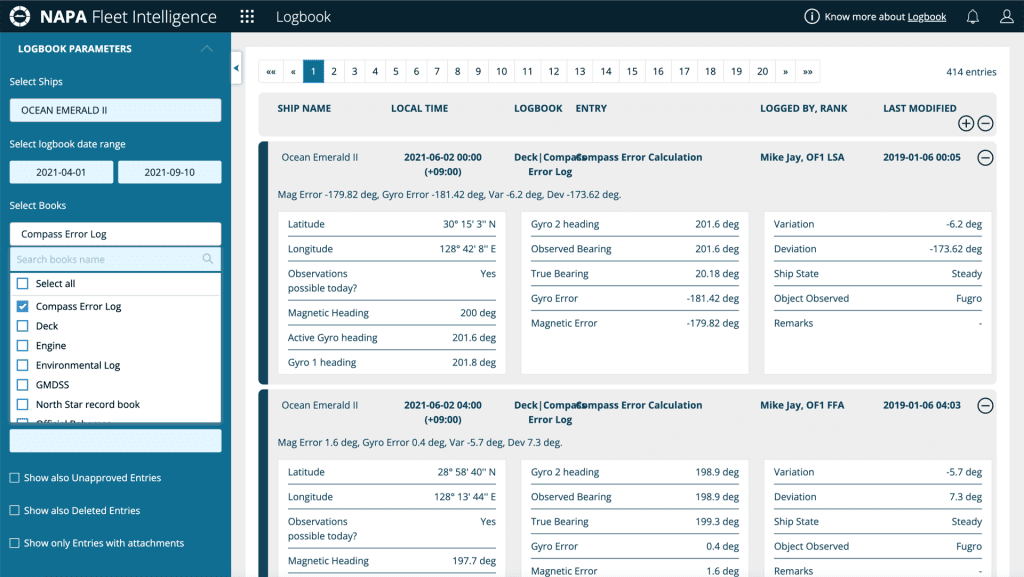 For shoreside fleet intelligence
Fleet-wide logbook data for analysis
Having accurate data for compliance and analysis has become essential to ship operations. Here, NAPA Logbook can be a multifaceted "official" and standardized data source that relays real-time onboard data seamlessly to the shoreside.
Integrates massive data pool from fleet-wide logs, automation signals, other NAPA products and third-party systems.
Simplified reporting, like EU-MRV, MARPOL, ESG, CII, and more.
Easy monitoring and auditing of any log, anytime.
Benchmarking trends to improve performance.
Easy insurance claims handling with tamper-proof historical data.
API option for fetching all this data to third-party systems.
Get a demo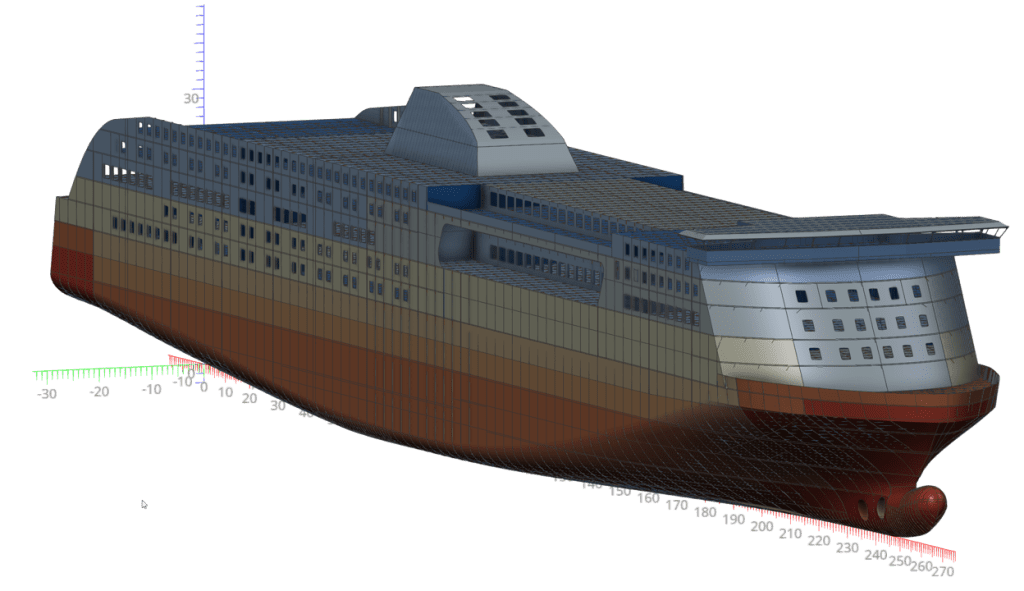 For shipyards designing the fleets of the future
De facto 3D design tool for shipbuilders
As proven by the world's top-class cruise ship builders, NAPA ship design solutions offer advanced capabilities for hull form design, stability analysis, structural design, and seamless collaboration between stakeholders for safe and competitive vessel design. 
Unique 3D model, enabling flexible design variation and optimization.

 

Industry-standard calculation and analysis for ship hydrostatics and stability.

 

3D-based structural design for weight, cost, and strength optimization while ensuring regulatory standards.

 

Efficient hull form design for fuel efficiency, speed, and seakeeping performance by advanced hydrodynamics analysis toolset.

 

Support faster decision-making and communications among stakeholders during the design process.

 

Advanced integration capabilities enable a single source of information throughout the design process.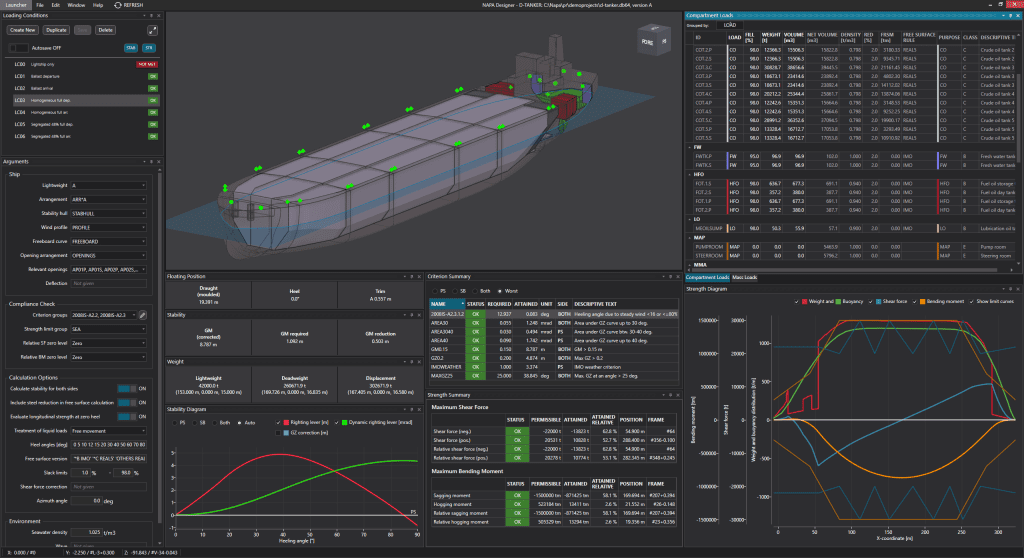 For shipyards designing the fleets of the future
Industry-standard

ship

stability analysis
NAPA offers a comprehensive set of tools for flexible 3D modeling and ship stability analysis, trusted by the shipbuilding industry and authorities for decades. 
All relevant required naval architectural calculations in one package.

 

Comprehensive rule compliance analysis, including the latest rules and regulations e.g. SOLAS II-1 support.

 

Modern first principle analyzing tools, such as NAPA Flooding Simulation.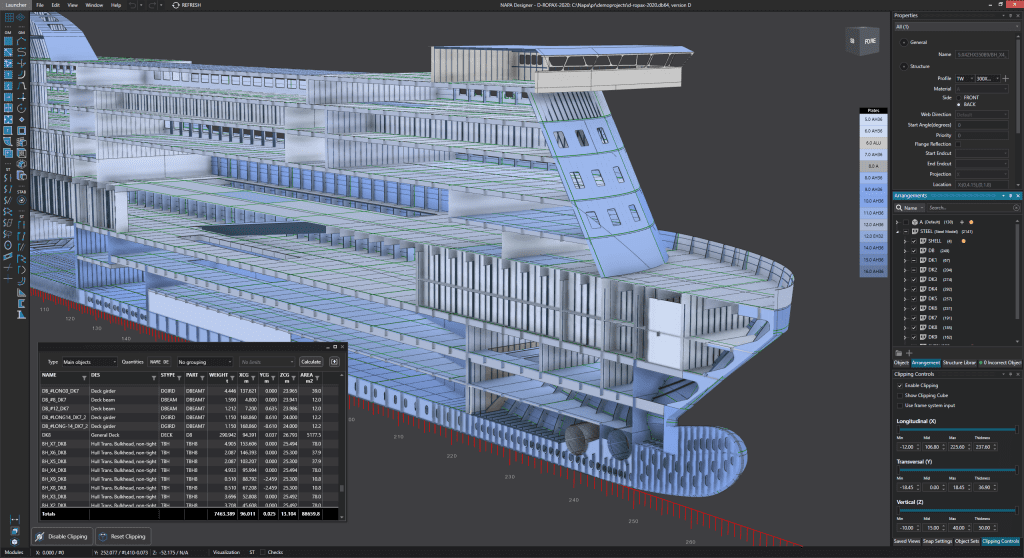 For shipyards designing the fleets of the future
Structural design 
NAPA Steel revolutionizes the initial and basic structure design by taking the design work from traditional 2D drawings to 3D modeling. Using a 3D model for structural design from the beginning of the project has several benefits, from earlier rule compliance information leading to more accurate weight and cost results. 
Save time and resources by using the same 3D design information for multiple tasks and get results quickly.

Stay in control and minimize risks by using the same info for drawings, calculations, analysis, and easy updates.

Support collaborative design process by using an easy-to-modify 3D model, and integrating interfaces to reduce errors in other design activities.
Get a demo
Always with you, wherever you sail
NAPA offers a wide range of services, consultation and training for customers using ship operations solutions. We work closely with our customers and offer NAPA's wide expertise in safety and stability as well as optimizing ship efficiency for different projects.
Service agreements
Maintenance and Global Servicing Network
Cyber security
Insights for Cruise ships
Talk to an expert
Contact us for more information or a demo
Fill in the form and we will be happy to respond to your questions and introduce our offering in more detail.
You can also be in touch with your local office directly.
By submitting the form, I consent my information to be used according to NAPA's privacy policy.