NAPA enables new floating offshore wind turbine design for Samsung Heavy Industries
By using NAPA design software for modeling, geometry, and to calculate stability, Samsung Heavy Industries' (SHI) R&D center – Samsung Ship Model Basin (SSMB) – was able to design the Tri-Star Float model and enter the wind power generation market
Background
NAPA has a longstanding relationship with Samsung Heavy Industries, the South Korean shipbuilding company using NAPA Naval Architecture in its design processes since 1999. Around two years ago, an R&D center of SHI- Samsung Ship Model Basin (SSMB) – started using NAPA's structural design solution, NAPA Steel, for the initial design, because it enables rapid and automatic change of design.
As a result, SSMB applied NAPA's solutions to support and facilitate its entry into the wind power generation market with the design of a new floating offshore wind turbine (FOWT). For the project, SSMB required a new agile, accurate and integrated 3D design solution to create the Tri-Star Float model, since the traditional design spiral created by 2D drawings would have created huge inefficiency and accuracy issues.
Challenge
SSMB was looking to enter the wind power generation market with a new, bespoke FOWT that would place them ahead of competitors. Given the complexity of the task, and the fact that SSMB was entering new design territory, using the inefficient 'design spiral' method of manual modeling via 2D drawings would have been insufficient for the project's ambitions. SSMB instead needed an accurate and efficient 3D design software to streamline the process.
Traditionally, approaching the design of a new type of vessel or structure would have centered on the creation of 2D drawings. However, creating a FOWT in 2D would have required substantial time and human resources. Furthermore, the approach would have failed to meet project timelines as it would have required SSMB to create a design in 2D and then use several separate software programs to create the model. To support its innovative design projects and make its mark in the wind power generation market, SSMB needed to use accurate, efficient and agile 3D modeling software.
The process of designing a new FOWT was inherently more challenging than that of commercial ships. This is because a comprehensive and extensive historical database can be referenced when designing a commercial ship, while a similar database cannot be relied upon for a new structure to provide weight and cost calculations with the same accuracy. SSMB, therefore, required a direct estimation function to increase the accuracy for weight, costs and agile reaction to the turbine maker's request. Also, NAPA Steel's ability to quickly action substantial design changes played a significant role in allowing SSMB to meet its objectives and stay on schedule.
NAPA Solution
NAPA proposed that SSMB uses NAPA Steel to fulfill the project's ambitions, due to the solution's ability to seamlessly support 3D design and modeling. The design platform was also automated and set to objectives and targets, ensuring reliability and accuracy throughout the design process. The platform was especially useful for enabling quick changes and amendments to the design while maintaining accuracy. Specifically, NAPA Steel enabled the efficient 3D modeling required to easily change the parameters and automatically update the entire design in 3D. In conjunction, the solution was able to fulfill SSMB's request to automatically produce low-risk scantling and FE models to ensure design changes could be easily tested and implemented to meet a tight deadline.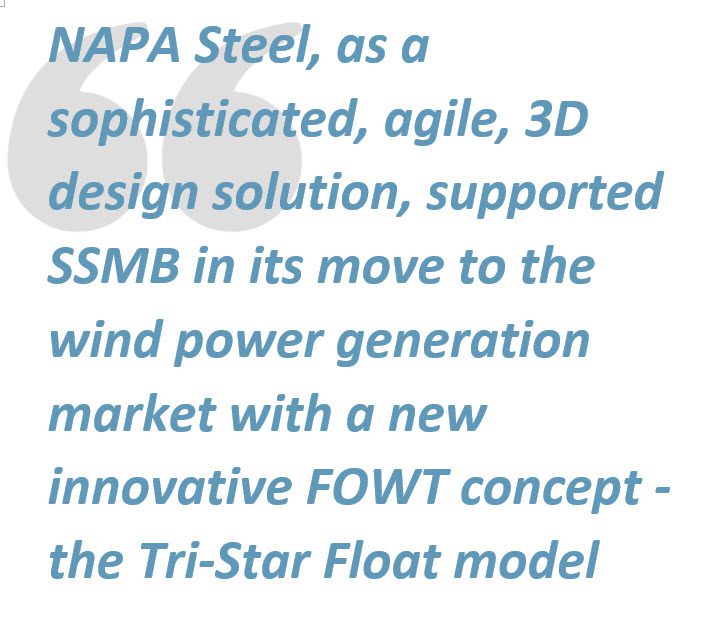 The accuracy and sophistication of NAPA Steel provided SSMB with the accurate and agile design solution required for its initial design and to mark its move into a new market with a sophisticated FOWT to rival competitors.
In keeping with the environmental principles of the FOWT, the optimized structural design in NAPA Steel minimized the steel used in the design, which will, in turn, reduce the environmental impact of the project and reduce costs. As the design also supports a shorter construction period for large-scale floating wind farms, the project is set to reduce some of the barriers associated with the energy transition.
The Tri-Star Float model has now received Approval in Principle from classification society DNV.
Conclusion
NAPA Steel, as a sophisticated, agile, 3D design solution, supported SSMB in its move to the wind power generation market with a new innovative FOWT concept – the Tri-Star Float model. By avoiding the time and resource constraints associated with switching between 2D and 3D designs, and overcoming the issue of a less comprehensive database, NAPA was able to streamline the project and meet SSMB's objectives.
NAPA will continue to support SSMB in realizing future innovative design projects.
Would you like to get more information on NAPA Steel?
Book a NAPA Steel demo