Augmented Reality, data sharing and instant communication – takeaways from Seatrade Cruise Global 2018
by Esa Henttinen, NAPA Safety Solutions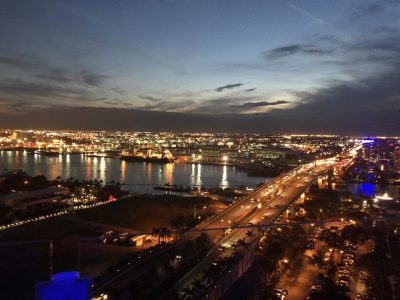 Year-on-year human error is consistently one of the biggest causes of maritime accidents. Sometimes it's inadequate watch keeping, others poor ship handling. But the results are usually the same: avoidable costs, lost productivity, and in the worse cases, personal injury.
During my time at Seatrade Cruise Global in Fort Lauderdale earlier this month, I was consistently impressed by the ways in which Augmented Reality (AR) technology was being used to improve human and digital capabilities at sea.
Augmented Reality is a computer graphics technology that blends virtual reality and the real world into a 3D image. It has enormous potential to provide information more effectively and productively to its users. From my perspective, the potential to improve situational awareness looked most promising. In an example demonstrated by Rolls Royce, by using technologies like a 3D laser scanner mounted on top of the ship in combination with radar, you can provide superior awareness of leisure boats and non-AIS carrying vessels like kayaks or canoes, as well as delivering text elements in a head-up display that estimate their speed, and course. This will be particularly useful in areas where traffic is heavy, such as the English Channel, or you're operating close to coastlines.
As the first company to create fully 3D-based stability software capable of making very complex calculations. I can see lots of potential applications for this technology at NAPA, and seeking new ways to deliver operational safety solutions. When you can improve your awareness of what's around you, that information can be used to improve your stability through a better understanding of the risks involved.
To take one common example, when there's a constant, wide, and transparent flow of data to the officers and shoreside staff, there's much less need for the manual time and effort spent filling in the noon report – or at least a readily available means of improving it.
This is intrinsically linked to data sharing, and there were plenty of examples on display that show how easy and effective it now is to give regular updates on vessel status and performance to a variety of shoreside stakeholders. For me, one of the biggest potential areas was how data can be tailored to the recipient – so while technical crew can still dive into the details, management and C-Suite executives can receive topline alerts on mobile.
Since my return from Fort Lauderdale I've been having discussions at our Helsinki Innovation Hub about the ways in which we can surface these technologies in ways that will enable crew to make better-informed decisions in distress situations more quickly. When every second counts, you don't want to have to wait minutes for the information you need.
For more insight into how future technologies might affect safety and stability management and the role of ship logbook in maritime IoT, check out the blogs from my colleague Jussi Siltanen.
This blog was originally published in LinkedIn on March 28th, 2018