Not your traditional logbook – the electronic era opens avenues for easy reporting and compliance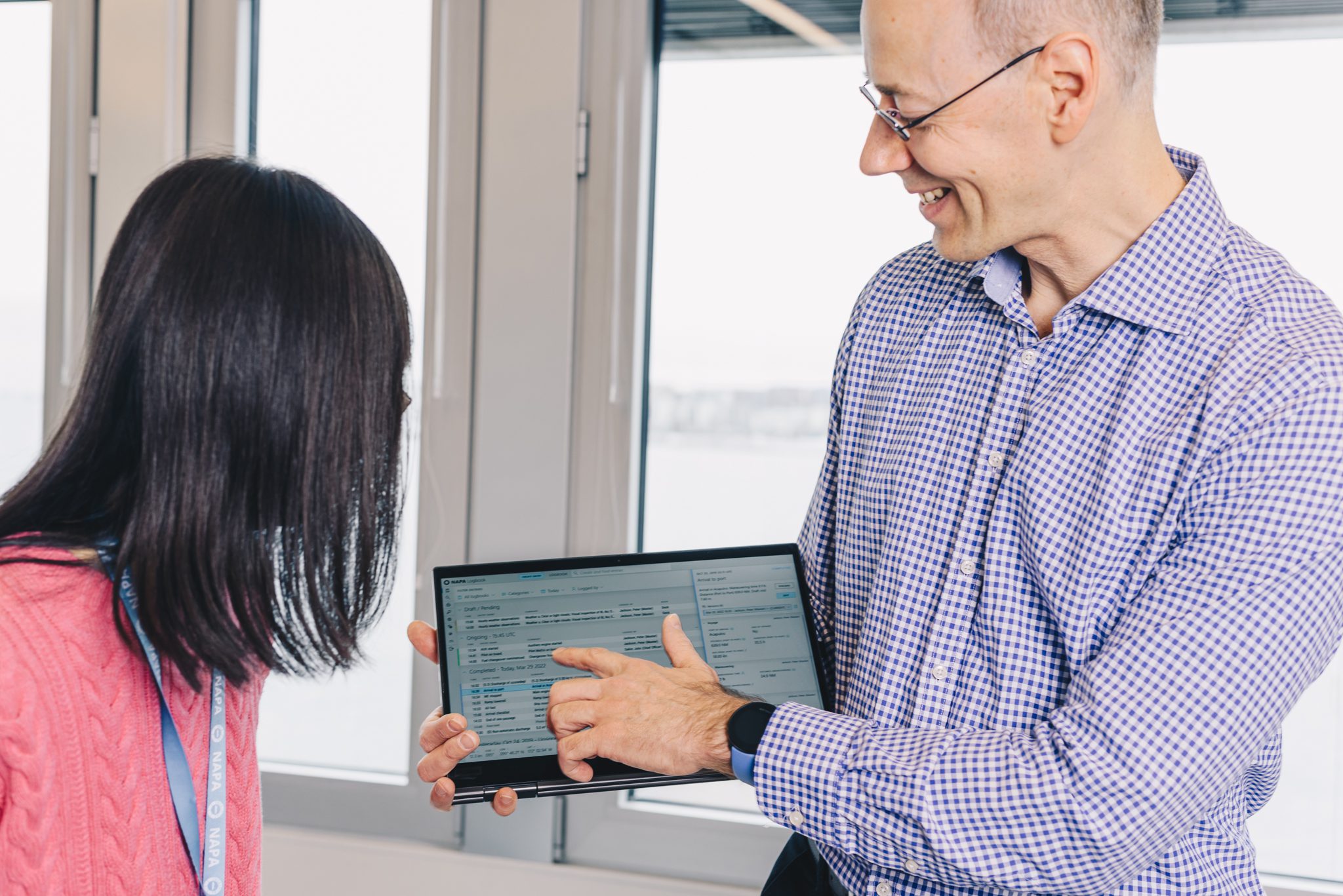 NAPA Logbook has received renewed type approval from DNV, which opens up a whole suite of compliance and reporting opportunities for the industry, going beyond traditional logbooks. Here's what this means for your operations in an ever-evolving regulatory landscape.  
Regulatory compliance is far from a tick-box exercise; it is incredibly vast, complex, and continuously evolving. For owners and operators, keeping up with new developments is essential to record, report and share data to stay compliant. This often requires a significant level of manual administrative work that can risk duplication of effort and increase the margin for error. 
Meanwhile, with stricter regulations being introduced to accelerate the industry's transition to net-zero, the industry faces both the challenge and opportunity to activate one of its most underutilized assets- data- to improve their environmental and safety standards.  
All of this adds to the complexities of compliance and for shipping companies not prepared, this can pose reputational challenges, operational disruptions and financial fines.  
In order to stay ahead of the curve and make the most of the opportunity, it is critical for shipping companies to take a proactive and strategic approach to regulatory compliance and data collection more generally. In this complex environment, NAPA Logbook can take the pressure off for organisations with standardized record-keeping and built-in reporting for easy compliance.   
Making this a reality, NAPA Logbook has received renewed Type Approval by DNV which covers an extended range of reports, including deck logbook, engine logbook, ballast water management logbook and GMDSS (radio) logbook, in addition to MARPOL logbooks.   
With access to reliable, verified and real-time data, passenger and merchant vessels can tap into new avenues to boost safety standards and remove inefficiencies, all while staying compliant with various mandatory and voluntary reporting requirements, and ESG data (learn more here).   
How many reports can you do with NAPA Logbook? 
Here's a list of some commonly used logbooks to bolster your toolkit. Your flag or port state authority may require other logbooks, which can be provided by NAPA as well. 
Navigation, engine and other operations -related logbooks
Deck Logbook (Bridge Logbook)

 

NAPA Logbook can help report and comply with SOLAS regulations, including crew shifts, emergency drills, stability data, watertight doors and more. 

 

Engine Logbook (Engine Control Room Logbook)

 

Engine logbooks hold crucial data on fuel consumption, allowing crews to monitor changes and identify patterns. Their integration with NAPA Fleet Intelligence also helps owners and operators better monitor engine operations data and fuel consumption to identify engine-related trends and optimize routes accordingly.

 

GMDSS Logbook (Radio Logbook)

 

Radio logbooks offer valuable insights into radio equipment maintenance, facilitating a comprehensive overview of what takes place onboard. In addition to this, it also aids compliance with SOLAS and STCW requirements. 

 

Official Logbook (if required by Flag)

 

Allows users to easily search any official logbook event for authorities. 

 

Logbooks for any other operations required to be recorded. Some examples include the Compass Record Book (Compass Deviation Book) and the Hospital Logbook (Medical Logbook)

 
MARPOL logbooks
Oil Record Book Part I – Machinery Space Operations (applicable for all ships) and Oil Record Book Part II – Cargo/Ballast Operations (applicable for tankers)

 

NAPA Logbook helps record all oil or sludge transfers and discharges within the vessel as required by the MARPOL Convention. Ship masters can also print out official reports for flag and port state inspections.

 

Record of Garbage Discharges Part I (for all garbage other than cargo residues) and Part II – (for all cargo residues) 

 

NAPA Logbook can record and report on the waste disposal processes onboard to help comply with specific regional requirements, like the US Centers for Disease Control and Prevention (CDC). With this intel, companies can also better measure their sustainability impact for enhanced ESG reporting. 

 

Cargo Record Book (applicable for ships carrying noxious liquid substances in bulk)

 

Ozone Depleting Substances Record Book 

 

Record of the tier and on/off status of marine diesel engines 

 

Record of fuel oil changeover 

 
Other environmental logbooks
Record Book of Engine Parameters

 

Ballast Water Record Book

 

Biofouling Record Book

 

Any other logbook related to environmental operations such as a Sewage and Graywater Discharge Record Book  

 
In addition to these traditional or official logbooks, the NAPA Logbook lets you go beyond regulatory requirements and customize the data and platform to meet your needs. Knowing more about your vessel's operations isn't just critical for better reporting – it's also good business. Pulling from various data streams, from onboard sensors and third-party systems like AIS to weather data, this big data informs shoreside decision-making via seamless integration with NAPA Fleet Intelligence. Also onboard, you can easily, filter results with keywords, make calculations based on automation signals and analyze data. 
NAPA Logbook serves as a treasure trove of information about a ship's operations, bringing a vessel's data to life. Providing the next level of systematic and integrated data management, NAPA Logbook covers a wide range of logbooks to provide stakeholders across the industry with one solution to accurately and quickly capture onboard data – the first step towards generating actionable insights and improving a wide range of parameters.  
It's time for the industry to take the next step in its data revolution and make its data work for a greener, smarter and safer industry.  
NAPA Logbook can be your secret tool for easy reporting and compliance
To know how the NAPA Logbook can help you with your various reporting and compliance, contact a NAPA expert.