The product
The Logbook team in NAPA Safety Solutions is working with the world's greatest cruise ship operators. The products developed by the team assist the ship crew to operate the vessel safely and efficiently, ensuring compliance with safety and environmental regulations.
The team in NAPA Romania is developing the electronic logbooks, checklists, and other applications, which the Captain and his/her bridge team are using 365/24/7 when navigating and operating the ship. By joining the team, you will get a first-hand connection to the global cruise ship industry and be part of the historical era of digitalizing the traditional onboard processes therein.
Got interested? We are now expanding our Logbook team with a Test engineer!
The role and the team
As a part of our team, your main responsibility will be to use your skills to secure our product quality and to produce releases on time. In this role, you will have the opportunity to monitor all stages of development to identify, investigate and describe all system malfunctions to meet quality standards.
You will work in an autonomous and international team of experts using agile methods. You will be part of an 8-member team and will interact with global colleagues from various teams like software development, UX designers, DevOps, and sales. You will be trained well in all the required aspects of your future responsibilities. You can work remotely, at our office in Galati (Romania), or in hybrid mode.
Do you have these skills?
Having experience in the testing field and working with relational databases (SQL) would help you succeed in this job. We appreciate the knowledge of popular programming/scripting languages and experience with creating automated tests.
At NAPA, our working language is English, and fluent oral and written language skills are essential.
NAPA as an employer
Meaningful work
We are proud to play our part in creating a sustainable world, and a career at NAPA means working with a purpose. We focus on building the best possible products for our customers, with whom we have close and long-lasting relationships. We protect the environment and human life at sea by powering safer and greener vessels with our technology.
NAPA way of working
We are a self-managed organization. Everyone is here to help and guide each other, but you're your own boss. The core of our self-management philosophy is trust. We trust our employees to make the right decisions and take care of their personal growth. We provide several opportunities for that, and everyone can manage their own working time. You can work at the office, from home or even while abroad.
Enjoy working together
…is one of our core values. Learning from and respecting each other provides a healthy and pleasant working environment. We, as NAPArians, share our knowledge and help each other when needed. NAPA has offices and customers around the world, and you will be able to meet people from many different cultures. We are a diverse family with a shared goal.
Read more about our values and culture: https://www.napa.fi/careers/
Ready to get on board and join the NAPA crew?
We kindly ask You to submit your application to us as soon as possible. The position will be filled once a suitable candidate has been found.
For more information about the position, please contact Stefan Buzoianu by e-mail: stefan.buzoianu@napa.fi
In its over 30 years of operation, NAPA has become a global leader in developing and scaling software, services, and data analysis for a safer, smarter, and more sustainable maritime industry. NAPA operates globally, with 190 employees in ten countries in Europe, Asia and the Americas. To date, NAPA has 420 user organizations for its design solutions, nearly 3,000 installations onboard vessels and a growing number of subscribers for its cloud-based fleet services.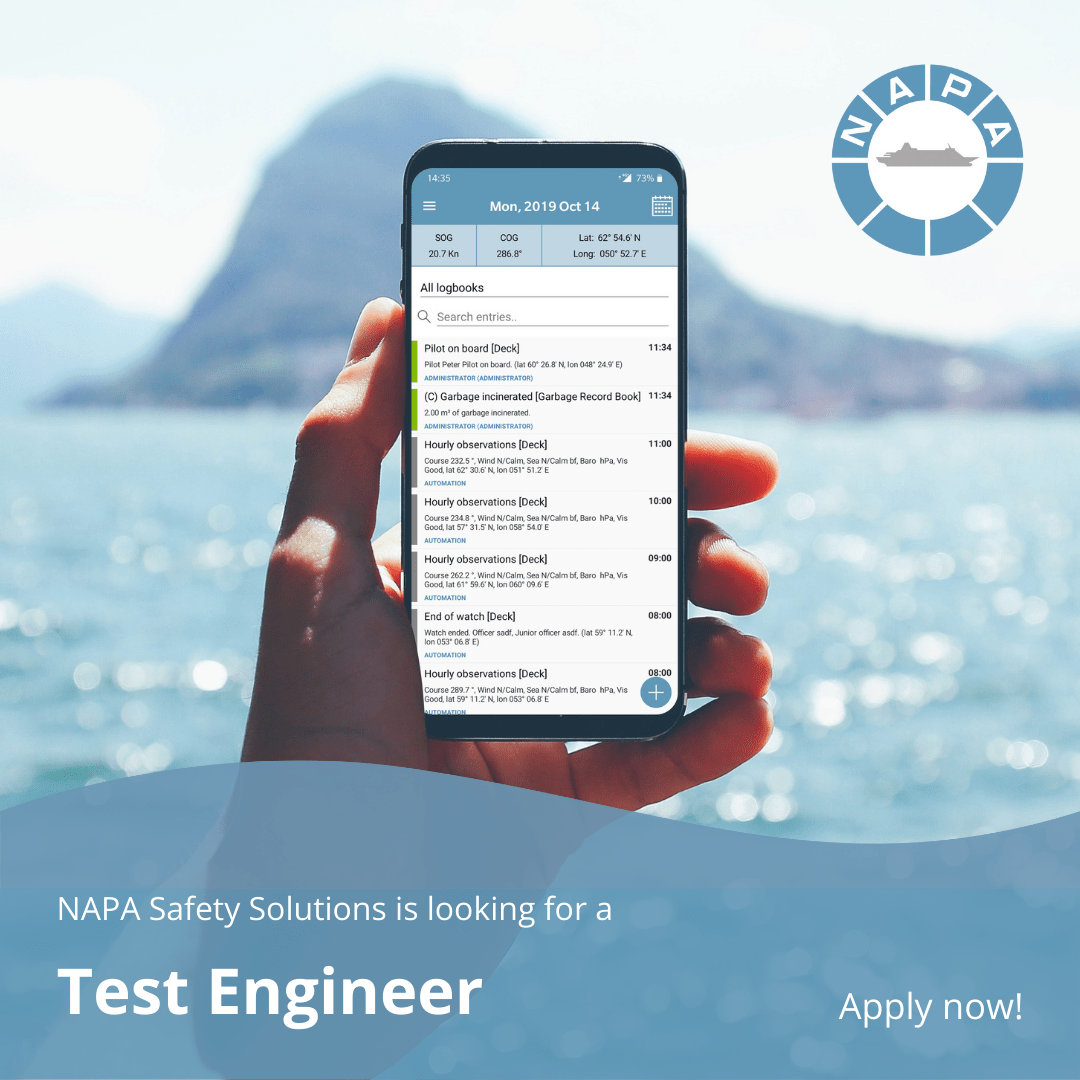 Some of your colleagues
Vlad Dorobantu
Test Engineer
Stefan Buzoianu
Senior Software Developer