Service Designer
Want to join a dynamic maritime technology company with a strong brand in the global market?
Want to join a dynamic maritime technology company with a strong brand in the global market? Are you passionate about user-needs-based design, customer research, and scalable recurring revenue business models? If yes, keep reading and apply!
NAPA solutions for ship design
NAPA solutions for ship design have formed a trusted platform for the initial and basic ship design phases for decades. Our customer base covers the largest ship-building organizations globally, and our software solutions and services have a significant impact on the global maritime industry.
The role and your NAPA Family
We are looking for a Service Designer to strengthen our capability to identify customer value, convert it into value propositions, and further down to scalable products. Our goal with this role is to accelerate business design and innovation by introducing the latest Service Design methodologies to our business development arsenal. 
You will be working with our global customer base, including world's
leading shipyards and engineering companies, together with our internal business minded subject matter experts.
The closest team members around you are the Business Coach, the Product Managers, and the development project leaders. This is a full-time position in Finland. We work self-managed and in a hybrid mode, where the options are flexible between remote work and on-site work at our recently renovated office in Helsinki, Ruoholahti.
As a Service Designer, your main responsibilities are:
Collaborate with internal stakeholder groups and subject matter experts to collect and analyze customer insights to help shape conceptual-level ideas into innovations
Identify opportunities that offer customer value and are viable to execute based on user research, rapid experimentation, and other best practices
Turn user insights into visually understandable and compelling frameworks to help internal stakeholders to get a grip on the customer needs
Contribute actively to the development of business models with a focus on the customer value, technical feasibility, and return on investment
Accelerate business development by utilizing state-of-the-art service design methods and internal subject matter expertise
Refine customer findings and business aspirations into value propositions and digestible entities.
Build relationships with customers around innovation, collaboration, and research
Develop internal methods to streamline the gathering and processing of stakeholder insights
What skills and qualities are expected for the perfect match?
Some years of experience in Service Design, user research, business development, and an applicable university degree
Conceptual and strategic mindset – thinking realistic but big
Excellent skills in facilitating customer interactions and collaboration workshops to obtain a comprehensive understanding of the customer inefficiencies and pain points
Passion for digital design best practices, new interaction models, design standards, and emerging technologies to supplement the team's domain expertise
Exceptional skills in finding, analyzing, and communicating business and user research information
Expertise in building understandable representations of complex business challenges
Ability to challenge conventional thinking around you to accelerate business development
We also hope that you understand and have preferably experience with the concept of growing with the customer through a recurring revenue model. Maybe you are also an inspirational facilitator who has a proactive attitude toward customer engagement.
NAPA as an employer

Meaningful work
We are proud to play our part in creating a sustainable world, and a career at NAPA means working with a purpose. We focus on building the best possible products for our customers, with whom we have close and long-lasting relationships. We protect the environment and human life at sea by powering safer and greener vessels with our technology.
NAPA way of working
We are a self-managed organization. Everyone is here to help and guide each other, but you're your own boss. The core of our self-management philosophy is trust. We trust our employees to make the right decisions and take care of their personal growth. We provide several opportunities for that, and everyone can manage their own working time. You can work at the office, from home or even while abroad.
Enjoy working together
…is one of our core values. Learning from and respecting each other provides a healthy and pleasant working environment. We, as NAPArians, share our knowledge and help each other when needed. NAPA has offices and customers around the world, and you will be able to meet people from many different cultures. We are a diverse family with a shared goal.
Read more about our values and culture: https://www.napa.fi/careers/
Ready to get on board and join the NAPA crew?
We kindly ask You to send your application, CV, and portfolio with examples of your work by 19 May 2022. The position will be filled as soon as a suitable candidate has been found.
For more information about the position, please get in touch with Mikko Forss (Executive Vice President, NAPA Design Solutions) by telephone: +358 50 597 1563 or by e-mail: mikko.forss@napa.fi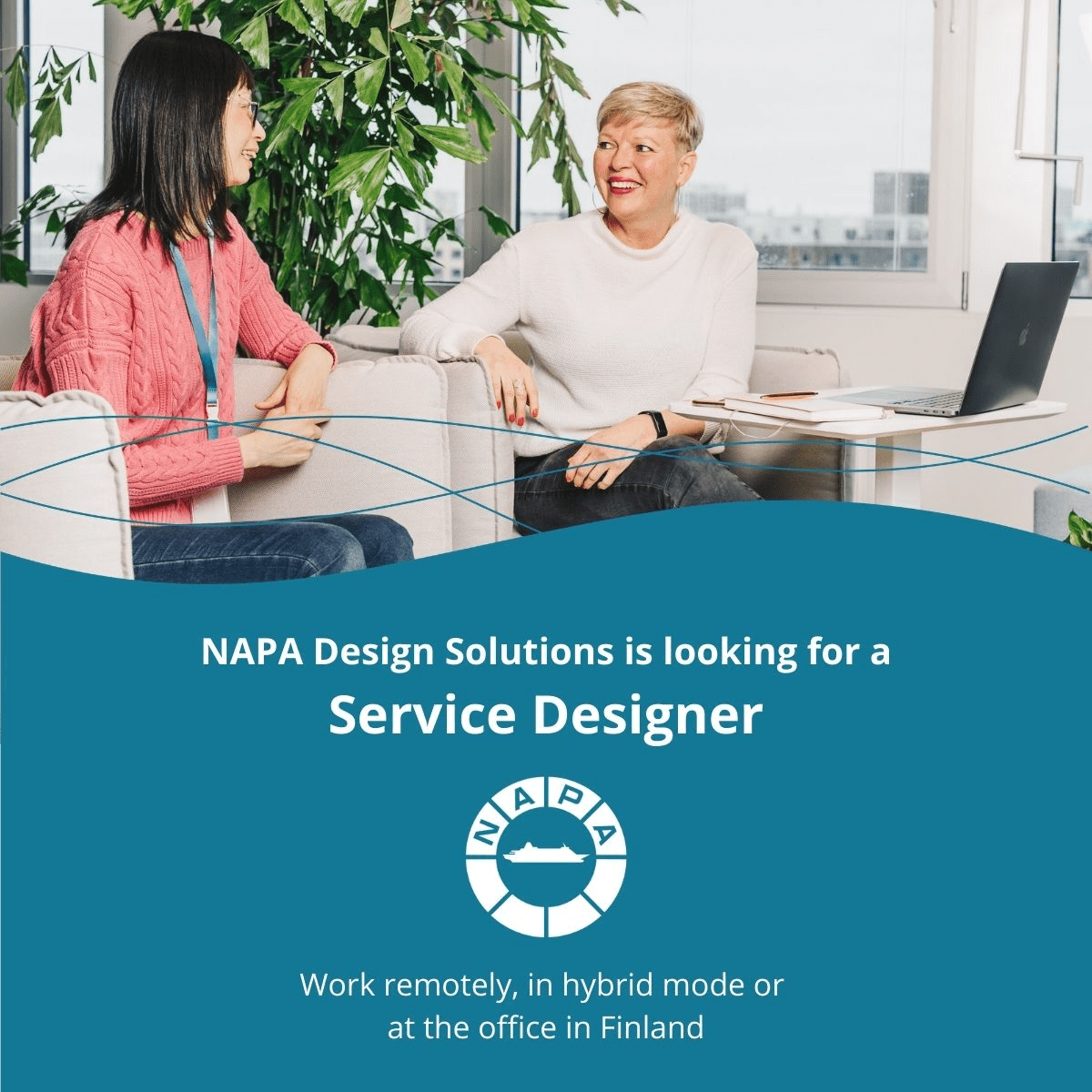 Some of your colleagues
Janne Marjaniemi
UX Designer
Marjo Mansén
Lead Service Designer
Olli Puustinen
Product Manager
Mikko Forss
EVP, Design Solutions