The future of design is now: taking 3D model-based approvals from concept to reality
Shipyards, designers, and class societies all recognize 3D model-based approvals (3D MBA) as an essential part of shipbuilding's future, helping shipyards boost efficiency in an increasingly complex environment and tackle the growing challenges of the decarbonization transition. No longer a distant prospect, various shipyards and classification societies around the world are already working to make 3D MBA a reality today. Here's how NAPA is working with industry pioneers to bring this ground-breaking process to life.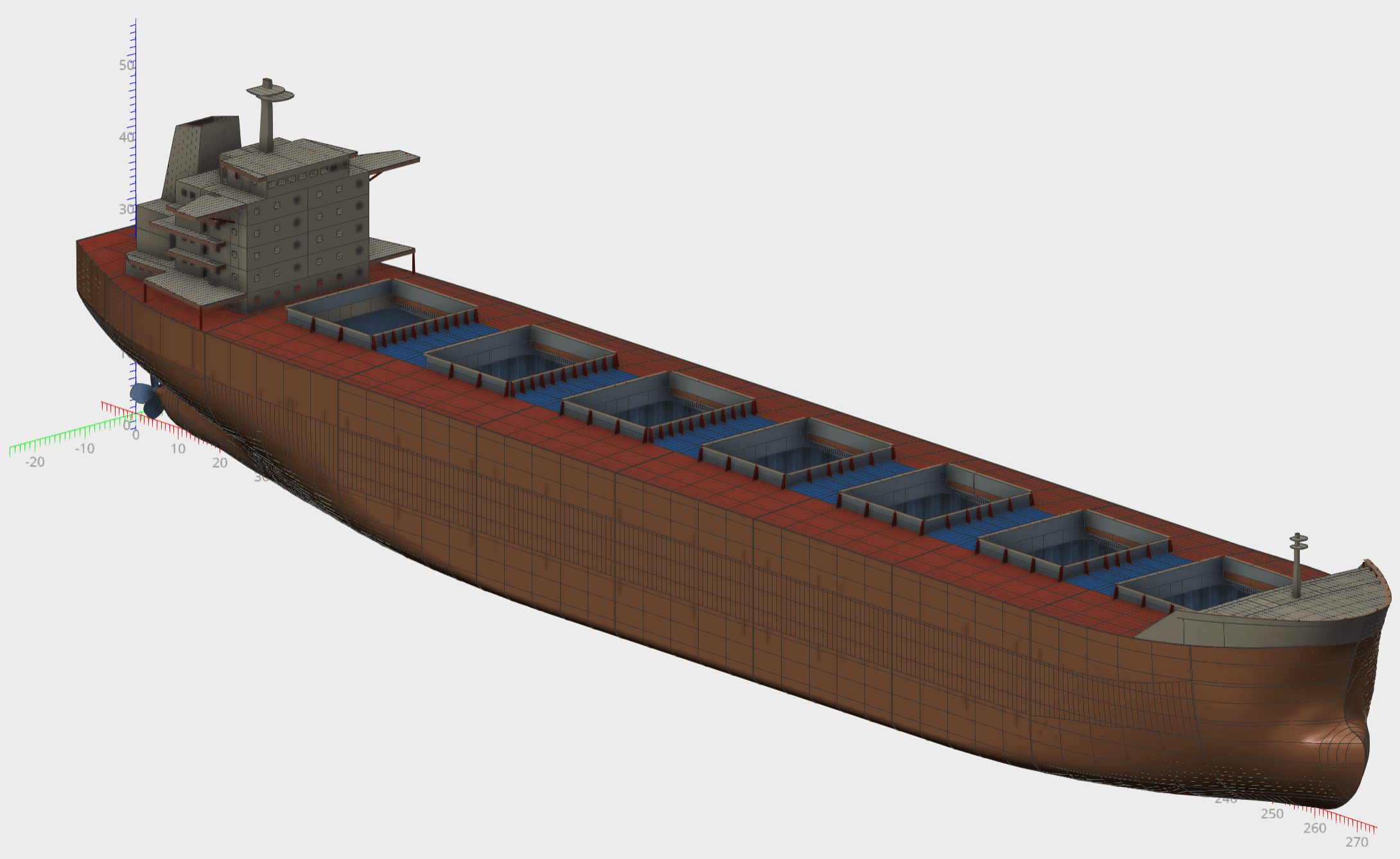 New challenges call for new ways of working. To say that the world of ship design is experiencing profound transformations would be an understatement – change is coming from all fronts, with the decarbonization transition, stricter regulations on maritime safety, the rise of autonomous vessel operations, and time pressure all adding layers of complexity to the picture.   
Put simply, the aim of 3D model-based approvals (3D MBA) is to enable classification rule checks and calculations to be performed with the 3D model used to design the ship. This is a major improvement on the current standard process, which requires shipyards to translate their 3D model into a series of 2D drawings for classification approvals, and back again in 3D to implement the changes. Eliminating these multiple conversions between 2D and 3D helps save time, while also preventing errors from creeping in.  
Additionally, the current standard process requires shipyard engineers to convert the 3D model to extract relevant information and input it in the formats required by the platforms used for prescriptive rule calculation and FEM analysis. This often necessitates a lot of manual input and fine-tuning, which is hugely time-consuming. Therefore, being able to convert the 3D model seamlessly for use by class engineering tools is another key component of 3DMBA.  
How do we turn this concept into reality? Leading classification societies have been following different approaches to realizing 3D MBA, depending on their strategy and customers' needs. Two main avenues are possible:  
Application Programming Interface (API)

is where the classification society accesses the 3D model directly through the software intermediary NAPA API, where they get the information needed to perform their rule checks and calculations. This approach, which is used by Korean Register (KR) and ClassNK, enables shipyards and classes to exchange information and calculation results directly on the 3D model, which becomes a "single source of truth" where all information on a ship design is stored.

 
Open Class Exchange (OCX)

was developed as an industry-wide standard file format

for 3D MBA.

It bridge

s

the software used by shipyards to design the ship and the platforms employed by classification societies for their rule checks and approvals. Generated by NAPA Designer, the OCX format extracts all the relevant information from the 3D model and puts it in a format that the classification societies software can read. This is the approach adopted by Bureau Veritas (BV) and DNV, and other major class societies have also joined the OCX Consortium.
Bureau Veritas and Damen

Engineering

–

passing the first 3D milestone
Earlier this year, a 2,500 m3 dredger became the first Damen vessel to be entirely designed, reviewed, and class-approved using a 3D model, the outcome of a year-long collaboration with NAPA and Bureau Veritas. This technical leap was achieved using the OCX standard file format, which enabled BV to perform its prescriptive rule checks and calculations using its in-house tools MARS and VeriSTAR Hull. The result of these reviews was then delivered seamlessly utilizing the same file format, without any conversions to 2D drawings involved.   
The new process had a stellar start. From the very first vessel design, 3D MBA delivered on its promises, helping Damen's teams save valuable time as they no longer needed to translate their concept into 2D drawings for classification approvals, and then back into 3D to implement the changes. Communication between class and shipyard was noticeably easier, which helped make design reviews more efficient and robust, with a reduced risk of errors.  
Crucially, 3D MBA helped streamline the classification approval process without compromising on safety, as the same rigorous checks were taking place to ensure that all regulatory standards and rules were met. The results of this first project were so decisive that Damen is already applying the process to further designs, including two hopper dredgers of 1000m3 and 4000m3. 
ClassNK and Nihon Shipyards – developing a single source of truth
Another method, NAPA's Application Programming Interface (API), was used by ClassNK and Nihon Shipyards to achieve seamless integration, with a 3D model that is kept up to date throughout the design and review process as the central source of information on the vessel.   
The project focused on the development of tools and processes to improve the efficiency of the class approval process and solve some of the practical issues associated with 3D MBA. With hull structural design as a first target, it developed an integrated system between NAPA Designer and ClassNK's in-house strength calculation platform PrimeShip-HULL (PSH), which handles prescriptive rule calculations as well as Finite Element (FE) analysis.  
The project conducted trials on sample bulk carrier and oil tanker models, which validated the effectiveness of the new integrated system and confirmed its significant benefits in terms of removing work duplication and ensuring consistency of the design information in structural drawings and structural models.  
Another key outcome of the project was to validate the effectiveness of NAPA Viewer, a web-based application that enables NAPA 3D model owners to provide all their stakeholders with secure and easy access to review and share comments on the models. NAPA Viewer acts as a central hub for information, not only enabling 3D MBA but also supporting better information-sharing and collaboration between all stakeholders involved in the ship design process. Here, too, trials have validated that the new platform delivers equivalent or even greater efficiency than the current 2D-based process, thanks to an automatic annotation tool that combines the advantages of a 3D model with those of traditional 2D drawings, helping reviewers find design information quickly and intuitively.
Korean Register –

further

streamlining

engineering processes
NAPA has also collaborated with Korean Register (KR) to develop an interface directly linking the shipyard's 3D CAD system, NAPA Designer, and KR's structural strength calculation software SeaTrust-HullScan. The API works in real-time, enabling designers to easily import complex cross-section modeling data and allowing for the seamless transfer of ship design information including modeling information into the classification platform.  
A key focus was data reusability – typically, the various processes involved in the hull structure design each involve different software, which each has its own proprietary file format that can only be used by that specific software. This leads to repetitive work manually inputting information from the 3D CAD model into the classification software for rule calculations. By tackling this issue, the aim was to streamline the design process by eliminating costly and time-consuming steps, which increase the risk of human error.  
The study confirmed that data consistency was maintained, which is essential to ensure that any changes are accurately reflected in models and calculations, and results can be trusted. It also found that the interface greatly improved the accuracy of hull structure design as well as work productivity. The system is now being used in shipyards in Korea, and the project continues to deliver further improvements based on customer feedback. The latest developments in the project, including the development of a direct interface for Direct Strength Assessment processes, will be presented at the 2023 NAPA User Meeting. 
The road ahead
The recent milestones and projects are only the beginning, and we can expect that 3D MBA will become the new norm in shipyards moving forward. NAPA continues to work closely with shipyards and classification societies to perfect the process and facilitate its wider roll-out in the industry. By doing so, we are connecting not only the systems and data but also connecting people – bringing them together around a single objective of making the design and class approval process more efficient.  
3D MBA is not an aim in itself, but a means to help shipyards succeed commercially, and deliver better ships, faster. By making processes more efficient, it opens new possibilities for naval engineers and architects at a time when they face the enormous challenge of creating the more sustainable fleets of the future. 3D models are also the foundation for digital twins that can be used throughout the vessel's life to improve its operations and maintenance.  
This shows how the ongoing 3D revolution in ship design will help create more efficient and sustainable vessels that will revolutionize maritime transport for this generation and those that will come next.