SDARI, BV and NAPA joint project validates benefits of 3D model-based classification approvals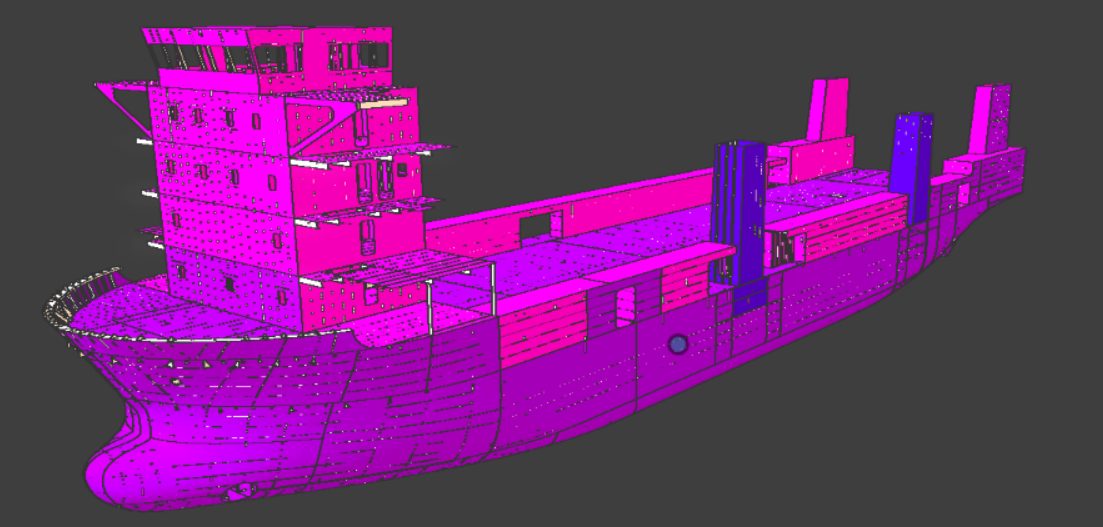 20 November 2023: Bureau Veritas (BV), a world leader in testing, inspection and certification, the Shanghai Merchant Ship Design & Research Institute (SDARI) and NAPA, a global provider of maritime software and data services, have completed the first phase of a Joint Development Project (JDP) to enable 3D model-based approvals for the classification of ships.   
The project validated the feasibility of 3D model-based approvals (3D MBA), where classification reviews are directly based on the 3D model provided by the designer, rather than requiring multiple conversions to 2D drawings, which is the traditional process. The objective is to boost efficiency in the design process, saving time and costs, while improving accuracy and communication between all parties involved in a design, including shipyards, naval architects and engineers, shipowners, and classification societies. 
The JDP confirmed that the expected benefits of 3D MBA were achieved, with the project demonstrating an improvement in design review quality as well as enhanced collaboration between all parties.  
The first phase of the project tested the entire classification process to ensure that all steps were properly carried out and to improve the various software as needed. A well-known ship designer under China State Shipbuilding Corporation (CSSC), SDARI adopted NAPA Steel software, while BV used NAPA Designer for the automatic generation of the calculation models to perform rule checks. Using an open file format (OCX) generated by NAPA Designer, BV could use the 3D model provided by SDARI to perform the design review using its in-house rule-checking software: MARS and VeriSTAR Hull. BV's structure assessment comments were then associated directly to the 3D model, which facilitated a better understanding and seamless communication between BV and SDARI. 
This joint project demonstrates BV's digital leadership and is supporting SDARI's ambition to improve design processes through 3D technology. 
Lu Li, Vice President at SDARI said: "We are proud to take the next step in our digital transformation, by developing 3D model-based approval procedures in collaboration with NAPA and BV. This will significantly streamline ship design processes, thereby boosting our capacity and competitiveness at a time when the decarbonization transition brings new challenges for ship designers and engineers. With this project, we found that using 3D models with BV for classification rule checks and approvals is a win-win situation."  
Mikko Forss, Executive Vice President for Design Solutions at NAPA, said: "This fruitful collaboration with BV and SDARI has proven that 3D model-based approval can make the design process more streamlined, efficient, and collaborative. As such, 3D MBA is an essential foundation for the fast-paced innovation that is needed to deliver the next generation of greener, energy-efficient vessels that are demanded by the industry. Using a 3D model consistently as a "single source of truth" will help all parties work together efficiently to deliver the best possible designs, while also enhancing their own productivity to ensure strong, profitable businesses." 
Laurent Leblanc, Senior Vice-President, Technical & Operations at Bureau Veritas Marine & Offshore, said: "This project has provided further evidence of the effectiveness and viability of 3D model-based approvals to enable more efficient communication between ship designers and classification societies, while ensuring that all safety and regulatory standards are met. This collaboration with SDARI and NAPA is a tangible demonstration of BV's commitment to make 3D model-based approval a reality as a foundation for enhanced innovation and efficiency in ship design, ready to meet the safety and sustainability challenges ahead. 
– ENDS – 
Notes to editors  
About SDARI  
Established in 1964, Shanghai Merchant Ship Design and Research Institute (SDARI), member of China State Shipbuilding Co. Ltd., (CSSC), stands out as one of China's largest merchant ship design institutes with the vastest variety of ship types, world's leading technical edge, the most innovative and stable technical team along with the largest market share in domestic China. SDARI today boasts a team of more than 660 employees with a full range of professions, providing services including Ship Design, Consultancy, Digital Operation Support and Marine Equipment. SDARI has developed a total of over 1,200 different vessels and received over 350 awards from the provincial level or above. In recent years, SDARI's sustainable improvements of technical expertise and growing market share help to speed up the construction of the world-leading intelligent ship naval architecture institute. 
For more information, visit https://www.sdari.com.cn 
About Bureau Veritas  
Bureau Veritas is a world leader in laboratory testing, inspection and certification services. Created in 1828, the Group has more than 80,000 employees located in more than 1,600 offices and laboratories around the globe. Bureau Veritas helps its clients improve their performance by offering services and innovative solutions, in order to ensure that their assets, products, infrastructure and processes meet standards and regulations in terms of quality, health and safety, environmental protection and social responsibility. 
Bureau Veritas is listed on Euronext Paris and belongs to the Next 20 index. 
Compartment A, ISIN code FR 0006174348, stock symbol: BVI.   
For more information, visit https://bureauveritas.com 
About NAPA  
With over 30 years of operation, NAPA is a leading software and data services provider for ship design and operations to enable safer, more sustainable, and future-proof maritime industry. Headquartered in Finland, NAPA employs 200 experts, combining expertise in naval architecture, fleet operations and digital services. NAPA operates globally, with a presence in Japan, Korea, China, Singapore, the USA, Germany, Greece, Romania and India.      
With over 90% of new vessels built by NAPA customers, NAPA's ship design software is the global de facto standard in shipbuilding. Furthermore, NAPA is a market leader in ship stability management and safety data services for passenger ships, and its cloud-based solutions for ship performance monitoring and voyage optimization support shipping's decarbonization journey. 
For more information, visit: www.napa.fi 
Press Contacts 
Bureau Veritas  
Nicholas Brown
+33 (0) 6 04 91 72 41 
nicholas.brown@bureauveritas.com 
SDARI
Sepideh RAYEGAN SHIRAZI NEJAD
sepideh.rayegan@bureauveritas.com
 
NAPA  
Boyoung Son, Product marketing manager in Design Solutions, NAPA