Tangible actions, certainty, and collaborative innovation​ are needed for Japan's maritime net-zero ambitions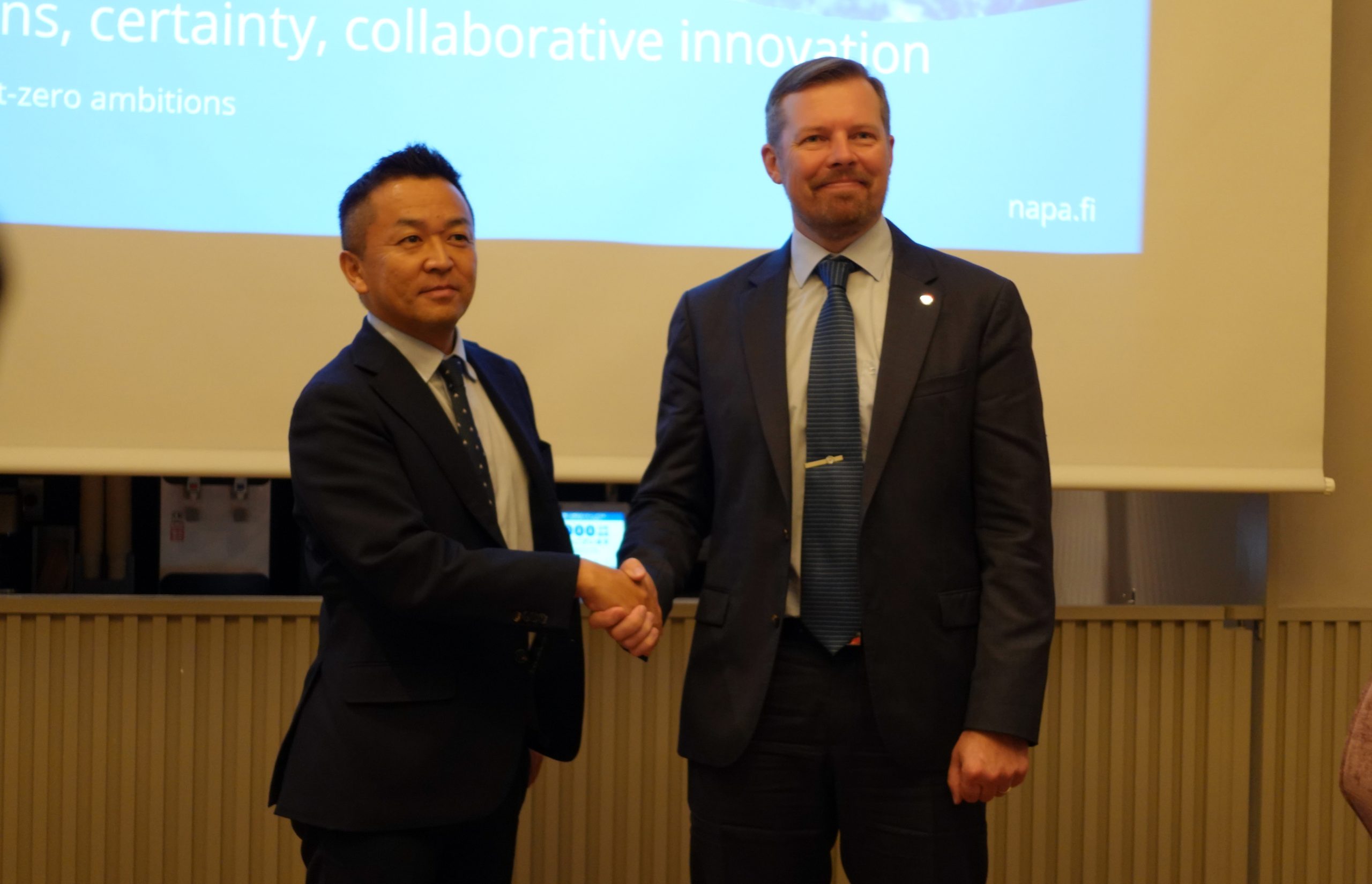 Operational efficiency, data for decision confidence and trusted frameworks for collaboration – solutions to meet IMO's immediate emission targets.  
Tokyo, 03 October 2023: In a Press Meet organized in Tokyo for the Japanese Maritime media, NAPA's CEO, Mikko Kuosa said the following: 
"MEPC 80's adoption of more ambitious targets sends a global signal: action for emissions reduction is urgent and must begin now. These international regulations have now been formally adopted by the IMO's 175 member states, including Japan. Being a major international shipping hub and a maritime-dependent economy, leading in shipbuilding and vessel operations innovations – Japan has a critical role in the coming decades to ensure the decarbonization of global fleets.  
To achieve these IMO targets, the Japanese shipping industry and the global maritime need to take immediate action. However, there are roadblocks that are currently hindering the pace of action and innovation.   
Wait for future fuels, causing inertia. They won't be available at any meaningful scale for at least another decade. So, progress can only be achieved with energy efficiency technologies, such as wind-assisted propulsion, alongside operational measures, such as voyage optimization and weather routing solutions.  
Decarbonization technology already exists but is often developed and used in silos. No single technology or company can solve the whole problem. So, collaboration is needed – but a trusted and transparent framework to make collaborations work is often lacking."  
NAPA's role as a technology and innovation partner 
Talking about NAPA's role in supporting Japan's maritime industry, Kuosa said: "NAPA has three action pillars where we can help in contributing towards the maritime industry's sustainability transition: 
Fuel efficiency and carbon reduction with digital tools

: 80% of shipping's decarbonization progress will come from efficiency measures, predicts McKinsey. NAPA is spearheading this with our ship weather routing and vessel performance optimization solutions.  

 

Decision confidence with data and simulations

: Ship owners and operators need greater certainty on what technologies and fuel choices will be right for their fleets. NAPA can help model, predict, and validate the impact of different decarbonization measures using ship digital twins.  

 

Framework for collaboration

:

Companies want to collaborate but hesitate due to the lack of trusted frameworks. NAPA bridges this gap by offering transparent data-sharing systems that provide a clear and fact-based understanding of the commercial and technological implications, helping all stakeholders – from very early the ship design phase to the complete operations and lifecycle – to collaborate with confidence. 

 
The industry's zero-carbon path is as multifaceted as it is complex. But there is a lot that we can do collaboratively to take control of our own emissions and draw our own pathways towards net-zero in a way that makes sense for our fleets and businesses. Across shipping, pioneers have already started the transition, and their experience shows that the sooner companies start planning the journey, the better off they will be." 
Note to editors
About NAPA 
With over 30 years of operation, NAPA is a leading software and data services provider for ship design and operations to enable a safer, more sustainable, and future-proof maritime industry. Headquartered in Finland, NAPA employs 200 experts, combining expertise in naval architecture, fleet operations and digital services. NAPA operates globally, with a presence in Japan, Korea, China, Singapore, the USA, Germany, Greece, Romania, and India. 
With over 90% of new vessels built by NAPA customers, NAPA's ship design software is the global de facto standard in shipbuilding. Furthermore, NAPA is a market leader in ship stability management and safety data services for passenger ships, and its cloud-based solutions for ship performance monitoring and voyage optimization support shipping's decarbonization journey. 
Press Contact:
Chandralekha Mukerji
Communications Lead
T: +358 408273014
E: chandralekha.mukerji@napa.fi