NAPA Viewer 2022.1
A new version of NAPA Viewer is out now!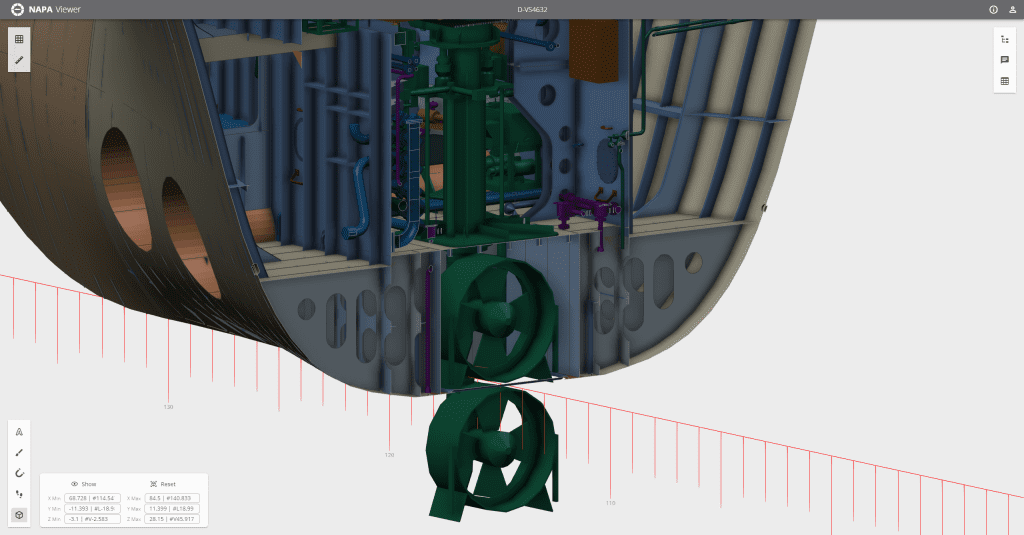 NAPA Viewer 2022.1 enables more efficient design review by offering a new walk-through view mode, visualization of 3D CAD components and annotation of 2D sections to create instant 2D drawing views.
NAPA Viewer
A new web-based solution, NAPA Viewer, enables easy access to up-to-date NAPA 3D models and therefore efficient design review, as well as cost-effective and straightforward communications between key stakeholders involved in the design process. The solution enables access to NAPA models for all stakeholders directly through a web browser, without the need for software installation. In addition, NAPA Viewer complements and facilitates 3D model based approval.
Read more about NAPA Viewer
Highlights of NAPA Viewer 2022.1
Walk-through mode
The different ways of visualization is the key to share a 3D model in the most efficient way between key stakeholders and access the model details. The new walk-through view mode of NAPA Viewer offers a unique user experience to "walk" into the 3D model.
External 3D component visualization
NAPA Designer has been supporting for a while the import of external 3D CAD components, such as outfitting components, for visualization purposes. Now, the imported 2D components can be visualized also in NAPA Viewer. The components are available also for 2D sections, created in NAPA Viewer. The snap settings of the measure tool work similarly for the intersected external components as for the intersected 3D model objects, such as structural details. The measure tool helps for example to analyse the needed space reservations.
Automatic annotations
The previous NAPA Viewer version supported already the 2D section generation from structural elements and compartments. Now, also a trial version of automatic annotations of objects is available, supporting more efficient design review with 2D sections. The feature has been developed within the joint development project of 3D model based approval, together with ClassNK and Nihon Shipyard, in order to find and access design information quickly and intuitively during review and approval processes.
Got interested?
Get in touch with our experts to see how NAPA Viewer can take the information sharing between different stakeholders into a new level.
Book a meeting
Read more about NAPA Viewer