NAPA and FURUNO announce collaboration to bring digital reporting to mainstream shipping
Helsinki, Finland – September 1, 2016
Maritime digitalization heavyweights put Big Data and the Internet of Things within the reach of all vessels
NAPA, the leading maritime data analysis, software and services provider, and FURUNO, the global leader in marine electronics equipment and solutions, announced today an ongoing partnership designed to support the digital progress of the global maritime fleet.
The two leaders in maritime data and electronics, have integrated NAPA Performance Monitoring and NAPA Logbook software with FURUNO hardware to offer a market-ready data logging and reporting solution using data signals already present onboard. This partnership offers a simple step forward into the Big Data era for ship owners, operators and managers with Internet of Things data-collection, electronic logging, and ship-shore and data-centre communications. The services offered will use existing FURUNO hardware and satellite communication solutions to support data-driven streamlining of operations, through business intelligence and boosting vessel performance, crew productivity and shore operation.
The two data-led platforms offered form the basis of NAPA's Shipping Solutions, designed to optimize vessel efficiency, safety, and enhance productivity both on-board and for shore based offices. Electronic data collection and analytics provide rationalized, easy-to-understand and accurate reporting to shore based management teams, and best-in-class data security through cloud storage. Furthermore, they support owners, operators and managers in addressing key challenges such as safety reporting, engine and waste logs, and providing a full reporting solution for the EU's Monitoring Reporting and Verification (EU MRV) legislation.
Juha Heikinheimo, President, NAPA Group commented:
"NAPA would like to thank our partner FURUNO for their support and vision in the development of this project. NAPA and FURUNO's offerings perfectly complement each other to deliver significant value to both parties, and to make a unique and fundamental contribution to the digitalization of the international maritime industry and its fleet. The future of the industry is enhanced communications, greater scrutiny on reporting and monitoring, and the exploitation of Big Data to deliver excellence. Together NAPA and FURUNO can support and enhance that progression."
Muneyuki Koike, Senior Managing Director, FURUNO commented:
"NAPA delivers excellent data collection, analysis and control solutions for the maritime industry. We are confident that the combination of NAPA's Shipping Solutions and FURUNO's expertise in navigation and communication equipment with its worldwide service network will create very powerful synergy, and we are looking forward to an exciting growth of the partnership within the maritime IoT world."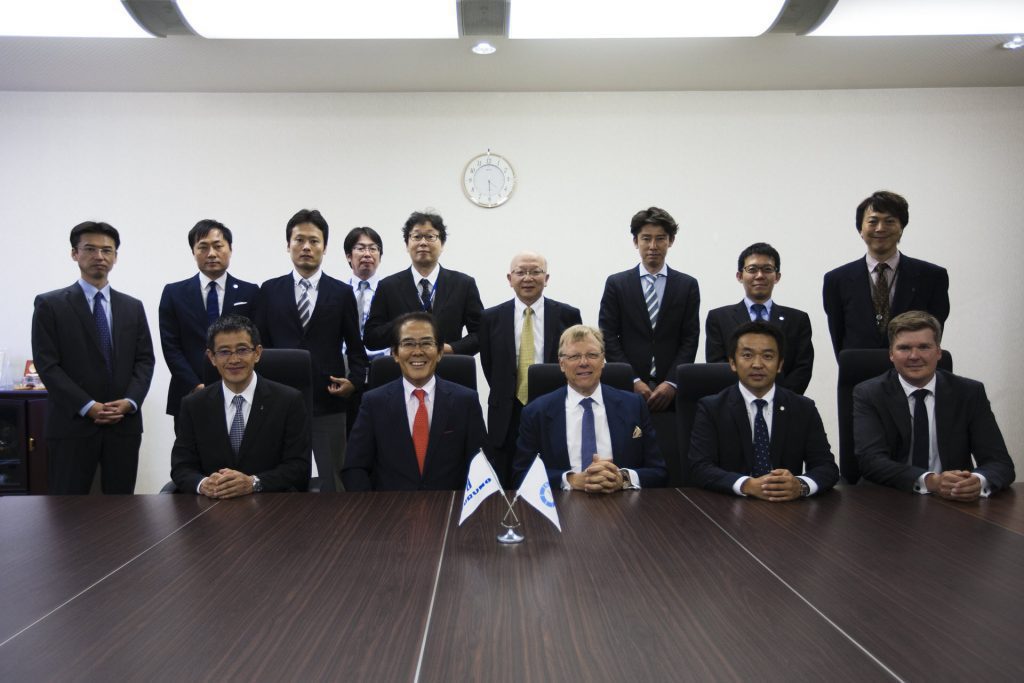 About FURUNO
Since its inception in 1948, when the world's first fish finder was commercialized, FURUNO ELECTRIC CO., LTD. has been running at the forefront of the marine electronics industry around the world, delivering first class navigation and communication equipment including Inmarsat terminals to meet the needs of a variety of vessels, ranging from large merchant fleets to smaller recreational craft.
FURUNO strives to enhance the availability of inspection, repair and other technical services and supports from service bases around the world. FURUNO manages a worldwide service network that covers more than 40 countries with authorized service agents and spare parts depots scattered around the world.
FURUNO has entered into the business field of shipborne satellite communication solution under the brand name "SafeComNet". Through "SafeComNet", FURUNO provides streamlined broadband ship-to-shore communication environment onboard ships, hence assisting in achieving optimal ship operation as well as implementing crew welfare.
For more information, visit www.furuno.com
About NAPA
In its nearly 30 years of operation, NAPA has become a global leader in software, services and data analysis for the maritime industry; providing best in class data-led solutions for safety, efficiency and productivity in both ship design and operations.
NAPA operates globally, with eleven offices across Asia, Europe and the Americas supported by its Helsinki headquarters. To date, NAPA has nearly 400 user organisations for its design solutions and over 2,000 installations onboard vessels. For more information, visit www.napa.fi