Your ship's electronic logbook can be a secret tool for ESG success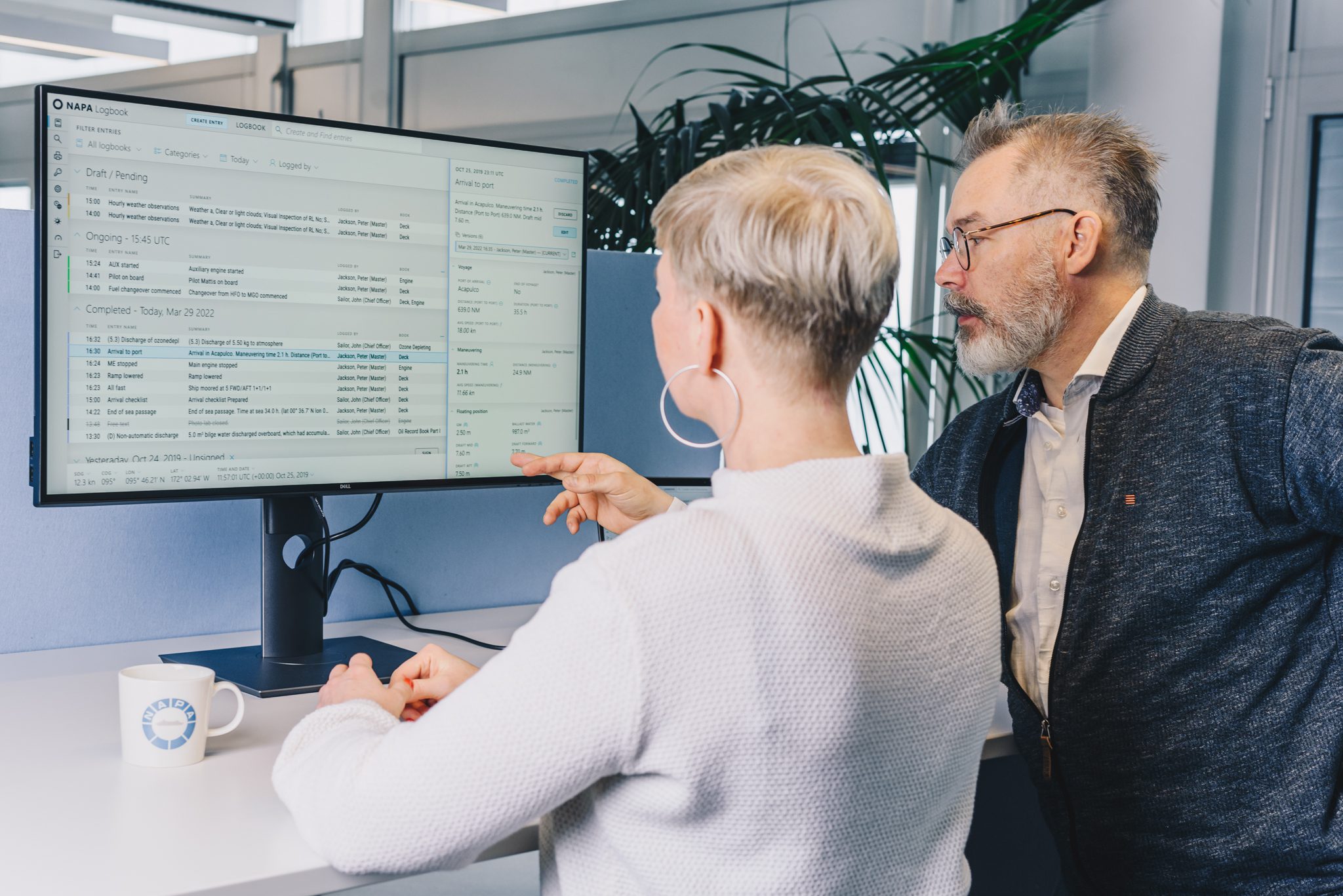 Talk to an expert
Overview: ESG data via NAPA Logbook
ESG accountability is no longer a "nice-to-have" for shipping; it is critical to doing business. Maritime is gearing up for a wave of ESG regulations hitting the industry, and ship owners and operators face a critical challenge: data gaps in disclosure requirements. The clock is ticking with US, UK, and Singapore exchange rulings already in place. Also, a recent addition to the list is the EU Corporate Sustainability Reporting Directive regulation that comes into effect as early as January 2024. Enter NAPA Logbook, the unsung hero in your ESG compliance toolkit. Often overlooked, it might be the secret weapon in the battle for environmental reporting success. Here's how: 
ESG reports are becoming a part of company annual reports, just like financial data and balance sheets. Passenger vessels, particularly in the cruise sector, are spearheading this change, as they are often the 'public face' of the shipping industry – but merchant and cargo shipping is far from immune. Here's why ESG is no longer just nice-to-have but becoming a necessity for ship owners and operators today:
Demand from Cargo owners
–

for Scope 3 emissions

Large and listed cruise ships have already started to collect their Scope 3 emissions. On the merchant shipping side, the pressure comes from listed cargo owners, such as IKEA and Amazon, who are now required to report indirect emissions under Scope 3 emissions. This has cascaded down to ship operators, as these cargo owners now seek ESG data from their transportation partners to guarantee the accuracy and integrity of their ESG reports.
Regulatory Push
–

both Regional & International

Society's expectations are shifting, and so are regulatory requirements. The EU-ETS (European Union Emission Trading Scheme) directives, the FuelEU Maritime initiative, European Union's Corporate Sustainability Reporting Directive (approved in November 2022), the United States enhance and standardize climate reporting unveiled in March 2022 and the Singapore Exchange (SGX)'s announcement in December 2021 – all demand ESG accountability in one form or the other. (See below NAPA Logbook Data – Full ESG Spectrum for Standard ESG Indices used by cruise and merchant ships.)


With such regulation, the direction of travel is clear: ESG metrics are now a part of standard maritime reporting. 
Financial Pull
–

 Access to Sustainable Finance

Then there's the financial pull – Reliable ESG reporting is essential to build trust with stakeholders like investors, financiers, and insurers. It's now as crucial as financial data in annual reports. Companies without it may face future financing challenges, as demonstrating sustainability is vital for investor confidence and future creditworthiness. 

ESG data could be used to monitor and assess whether an owner is meeting the KPIs set under a sustainable loan. Such loans already exist in the market, with KPIs linked to the ship's Annual Efficiency Ratio (AER) or its Energy Efficiency Operational Indicator (EEOI), for example.  
Shipping's ESG reporting readiness
Considering the urgent regulatory pressure to disclose ESG data, only 62% of shipping companies in Nordics are ready for the upcoming ESG regulations. This was found by a study of 300 Scandinavian Stock Exchange companies, who were rated not on how 'green' their operations are, but on how 'complete' their ESG data and disclosures is. The study also found that only 53% completeness of environmental disclosures among shipping​ companies.  Even though the Nordic region is among the top when it comes to sustainability matters, there is quite a ESG data gap to fill – also urgently as the EU CSRD regulations come into effect as early as January 2024,
There's an 'avalanche' of ESG disclosure rules leading to urgent need for quality and validated operations data that ship owners and operators could use for various official ESG reporting purposes.
Why NAPA Logbook is a powerful ESG and operations database
Growing beyond the traditional role of a ship logbook, NAPA's electronic logbook can be a goldmine of complete ship operations data that gets captured directly from shipboard sources in a standardised format validated by the captain every day. However, it is often an overlooked source. Here's what makes NAPA Logbook the natural source for ESG and operations data:
Automated, standardized fleet-wide data

: NAPA Logbook may well already be capturing most of the data shipping companies need to report on, even if they aren't aware of it. (See below: 'NAPA Logbook Data – Full ESG Spectrum' for overview of data captured by NAPA's electronic logbook.) 

Already hugely integrated data, further integration with APIs onboard and onshore

: With numerous logbooks from deck and engine to fuel, water waste, GMDSS and more – NAPA's electronic logbook already integrates huge data in one tool. And, even more, integration is possible via APIs for third-party systems. These could include weather and AIS systems, or other automation, sensor-based and voyage data.

 

Official captain's stamp for validation

: Electronic logbooks add a critical stamp of legitimacy to the data as they are approved and signed by the captain, adhering to regulatory standards, ensuring data integrity and standardized methodology.

 

Seamless data sync between ship and shore to avoid duplication and errors

: Finally, NAPA Logbook goes one step further as it connects to our cloud-based data platform called NAPA Fleet Intelligence. This makes data sharing seamless and synchronized between the whole fleet and shore. This means real-time monitoring and analysis is now possible on the shoreside, that too, without burdening the crew with any unnecessary communication.

 
Get a demo
NAPA Logbook Data – Full ESG Spectrum
ESG criteria are broad, and include a range of safety, governance and different environmental factors – and there are many global standards to measure these depending on the industry and region the company operates in. For cruise and merchant ships, the most followed standard indices include:  
All of which ultimately connect to the UN's Sustainable Development Goals that are followed universally. 
NAPA Logbook is well placed to capture data across the full spectrum of factors, no matter which standard or index your company follows. Here's an overview of the ESG metrics and regulatory compliance data that NAPA Logbook can support: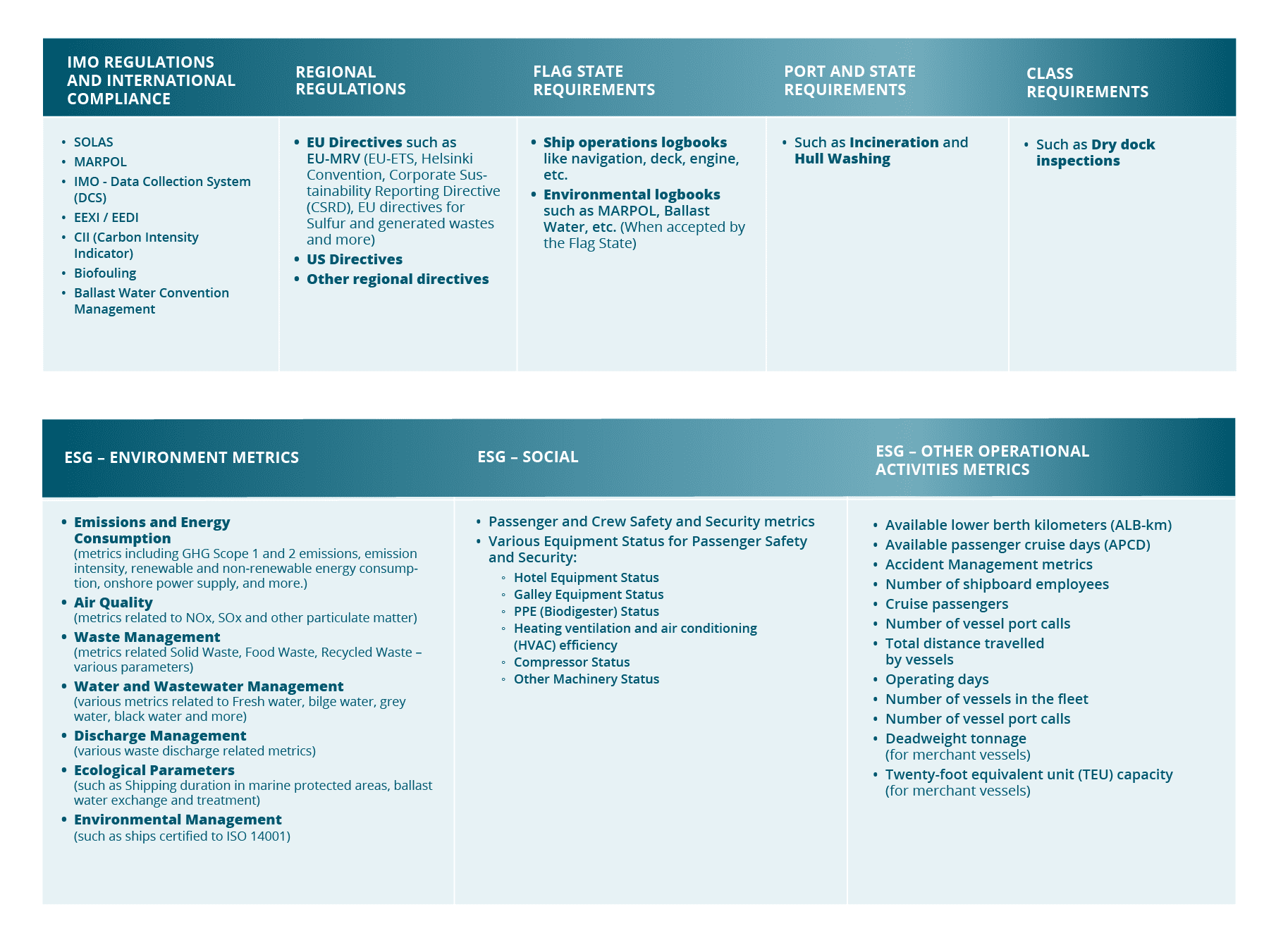 Customized data for unique needs
In addition to the above-listed ESG insights and mandatory reports, NAPA Logbook can be tailored to gather data on any aspect of operations, depending on what the company (and its stakeholders) want to measure and improve. It can be any aspect of operations onboard and onshore – from vessel-performance-related data such as bunkering and stability to equipment safety and maintenance, and even heating, ventilation and air conditioning (HVAC) efficiency, people and cargo flow onboard, and resource management – these data points are just tip of the iceberg.
How can NAPA Logbook be your secret tool for success in ESG Reporting?
For a detailed list of ESG metrics and how the NAPA Logbook can help you with your ESG reporting and regulatory compliance, contact a NAPA expert.