MDC uses NAPA design software to propel innovative eco-vessel design
By using NAPA software for modeling, geometry, and to calculate ship stability, MDC can efficiently and accurately produce designs for a diverse range of vessels and support its clients with complex clean technology retrofit projects.
The ro-ro cargo vessel SC Connector retrofitted with Norsepower's Rotor Sails (Image: Marine Design and Consulting AS)
Background
Marine Design and Consulting AS (MDC) was established in 2015 by a group of senior naval architects with decades of experience. Since its formation, MDC has provided ship design and marine engineering support for a range of commercial vessels, including tankers, dry cargo vessels and more. MDC is supporting shipping's transition to net-zero by working on the design for clean technology retrofit projects, such as the Sea-Cargo project.
MDC has used NAPA in its design process to support complex naval architecture due to its efficiency and flexibility as a design tool. MDC specifically purchased NAPA design software for geometry modeling and for calculating ship stability.
Challenge
MDC required 3D modeling software to support its innovative design projects. The software needed to be extremely flexible and tailored to support the design of a range of commercial vessels, as well as clean technology retrofit projects.
The naval architects within MDC had to select ship design software when starting the company in 2015. They selected NAPA due to not only their familiarity with and high regard for the software, but because of its potential to support a range of complex design projects and time-saving capabilities.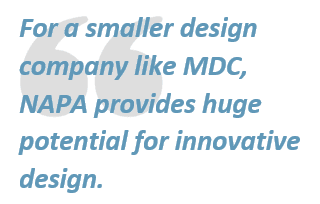 Specifically, MDC was tasked by Sea-Cargo with designing the retrofit of SC Connector by the inclusion of two of Norsepower's tiltable Rotor Sails and installation of an energy storage system onboard the ship. With no class rules or regulations yet defined for ship stability for this type of project, MDC required software that could help them determine how to calculate stability and which stability requirements to use. In the first phase of the project, MDC initiated a close dialogue with class society DNV about regulations and stability criteria, and with Norsepower on which wind forces should be applied. The success of the project relied on extensive marine engineering, including finite element analysis of the hull and supporting structure. The foundations and tilting Rotor Sails also required accurate calculation, with input from analysis and calculations of ship motion and inertia loads, and in extreme wind and sea loads.
As many stakeholders were involved in the discussion and the design process was brand new, and thus undefined, MDC required an efficient, accurate and flexible design software to complete the project
NAPA Solution
The naval architects at MDC had worked with NAPA for more than 20 years at other companies. NAPA worked closely with MDC to provide a tailored package consisting of geometry modeling and the calculation of ship stability, to meet the design needs of the business.
The NAPA team's rapid response time, expertise and the programming quality of its design software meant it was able to fulfil all of MDC's innovative design projects. On the Sea-Cargo design project specifically, NAPA's experts helped define which rules and regulations needed to be considered and how the advanced design calculations should be defined for the installation and safe operation of the Rotor Sails.
The methodology and calculations for the Rotor Sails provided sufficient evidence for safe ship stability and were accepted by DNV. Using NAPA software, MDC was able to carry out the engineering of the installation of the world's first tiltable rotor sail and set a new standard for projects of a similar nature. NAPA also applied its expert knowledge to provide MDC with consultation throughout the duration of the project.
MDC will continue to use NAPA to carry out ground-breaking new design projects. As ship design evolves in line with stricter environmental regulation, entering new design territory in order to deploy new technologies, it's now more important than ever before that designers can use software that is flexible, with reliable, rapid, expert support.
"I have used NAPA for more than 20 years in my role as a naval architect. NAPA is highly advanced software with almost endless possibilities. For a smaller design company like MDC, it provides huge potential for innovative design. The support from NAPA during the Sea-Cargo design project has been excellent, both in terms of the team's response time and their willingness to 'dig' into new challenges and to find solutions." – Leif Helle Becker, Senior Naval Architect and Partner, Marine Design and Consulting AS.
Conclusion
NAPA's close partnership and agile design software enabled MDC to complete innovative and ground-breaking design projects. Most notably, it supported MDC in setting a new standard for ship stability on the Sea-Cargo installation of tiltable Rotor Sails on a ro-ro cargo vessel – a previously undefined design concept.