More robust solution to mitigate flooding risks
NAPA's innovation for the EU-funded FLARE project improves flooding-related situational awareness onboard passenger ships and further advances emergency support systems to avert casualties.
Watch video:
Every year more than 100 million passengers travel by ship, making calls to European Union ports, and enjoying the allure of the open seas. And accidents are exceedingly rare — reflecting the increased focus on safety measures, such as 1) stricter regulations, 2) improved ship design, 3) digital technology and risk management tools, and 4) improved training of the crew. 
That said, accidents resulting from collisions or groundings can have devastating consequences, including ship flooding and human casualties. In the past 20 years alone, cruise and Ropax ships have experienced a total of 66 groundings and 16 collisions, making it imperative to develop innovative solutions to prevent and mitigate flooding.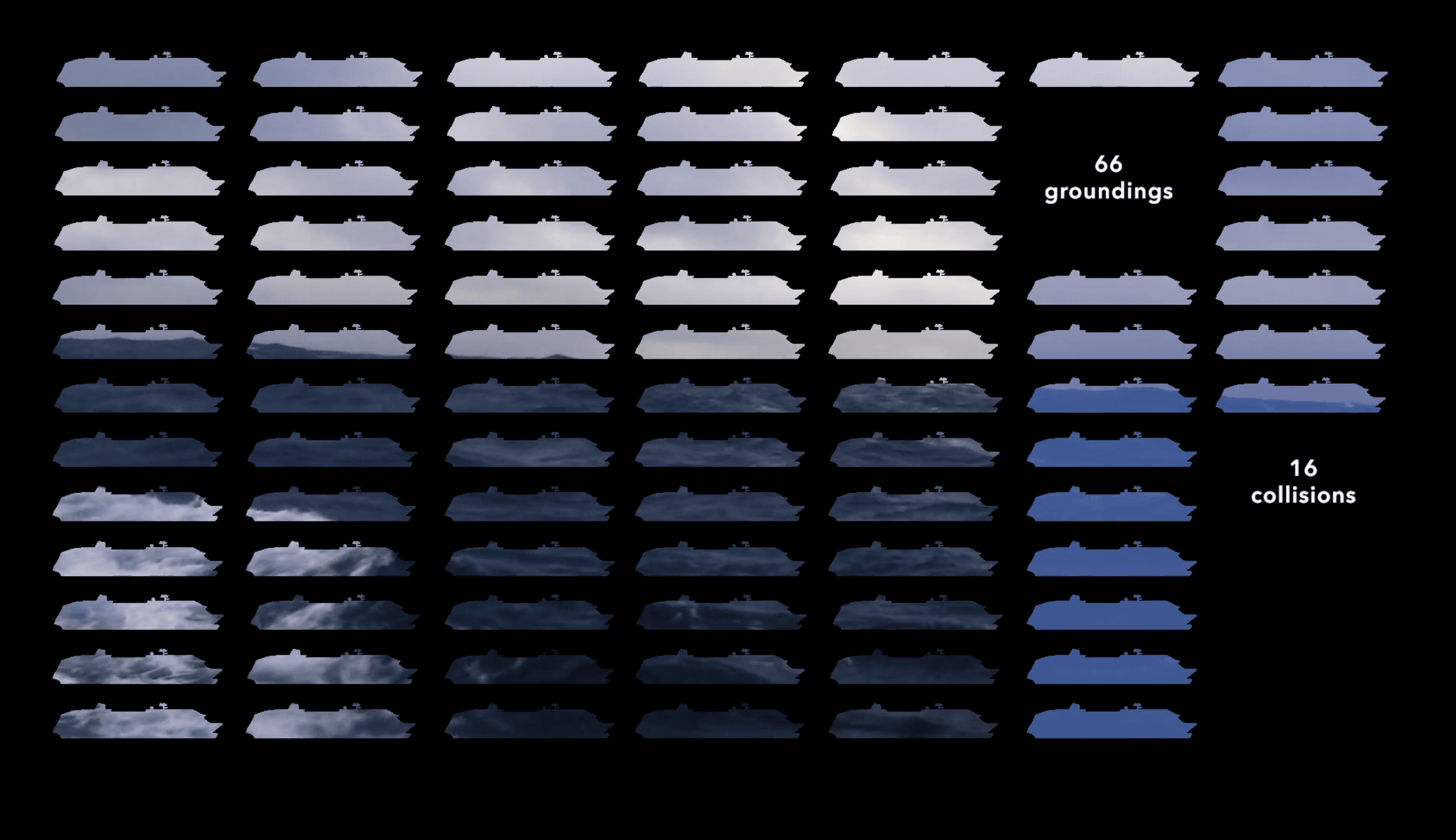 To address these risks, NAPA participated in an EU-funded FLARE project , a research and development endeavor aimed at enhancing safety and reducing the likelihood of casualties in the event of flooding. 
Guarding against disaster
While accidents at sea remain rare, the NAPA has always taken a proactive stance in enhancing safety measures. Together with our partners at the FLARE project, NAPA has developed a comprehensive system that leverages cutting-edge technology and real-time data analysis. This started with an at-sea understanding of how the shipping industry functions, along with various environmental and engineering variables involved in a flooding scenario.  
Flooding risk is a combination of the probability of an accident such as collision and grounding and the consequences of the flooding, which in the worst case can lead to sinking or capsizing. Nearby ships, especially crossing traffic, increases the accident susceptibility since a collision accident is possible. Similarly, shallow water means a grounding accident is possible and increases the susceptibility level.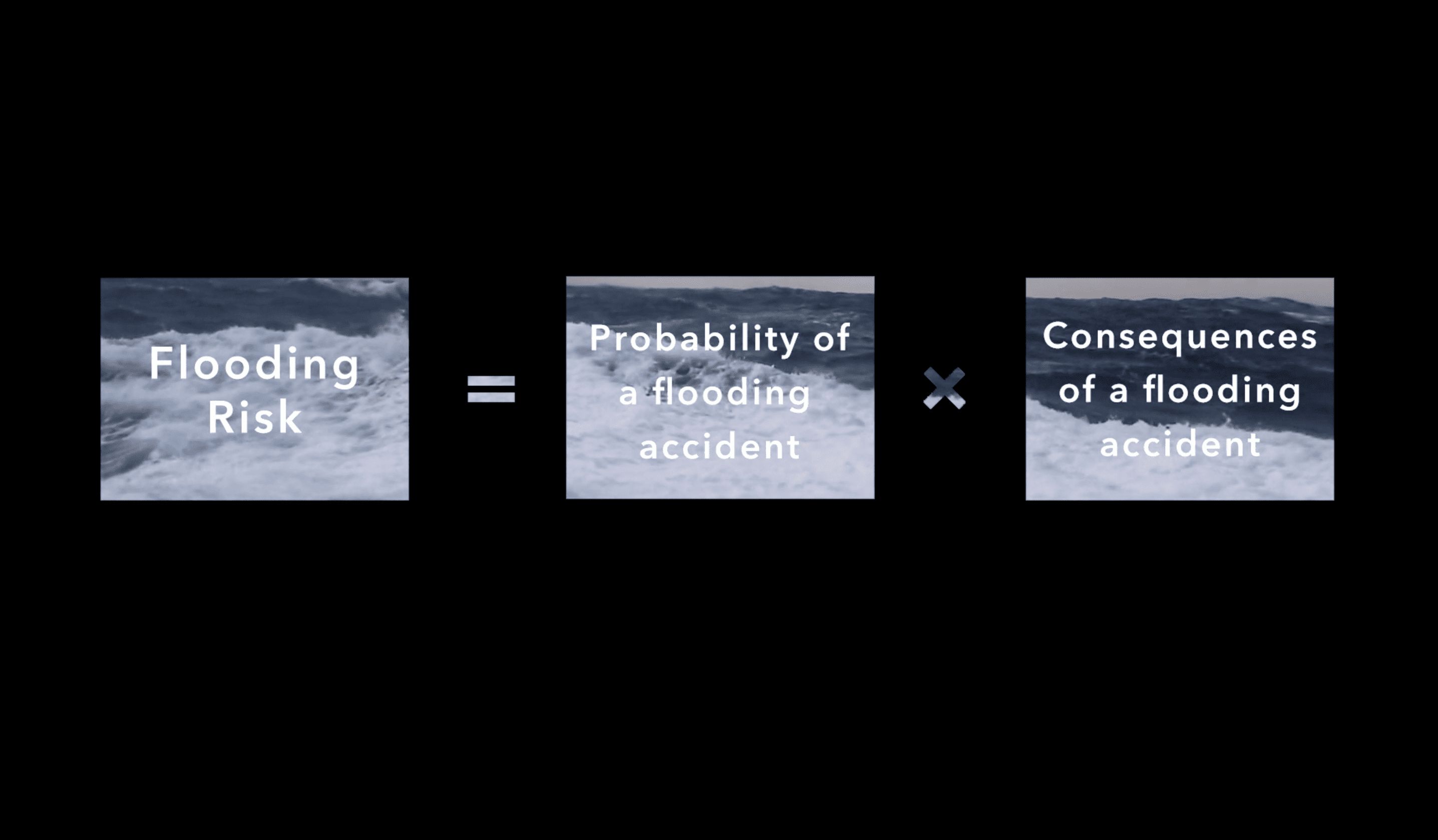 Watch the watertight doors
One crucial aspect involves monitoring the status of watertight compartments within the vessel.  
Ships are divided into watertight compartments to limit flooding in a collision or grounding accident. Watertight doors are often mounted in the bulkheads to enable easy access between the compartments. These compartments act as a defence mechanism to limit flooding in the event of an accident. However, keeping these doors open longer than necessary compromises the watertight integrity of the ship, posing a significant safety risk. NAPA's emergency monitoring system not only alerts the crew about such potential vulnerabilities but also enables improved practices in operating watertight doors.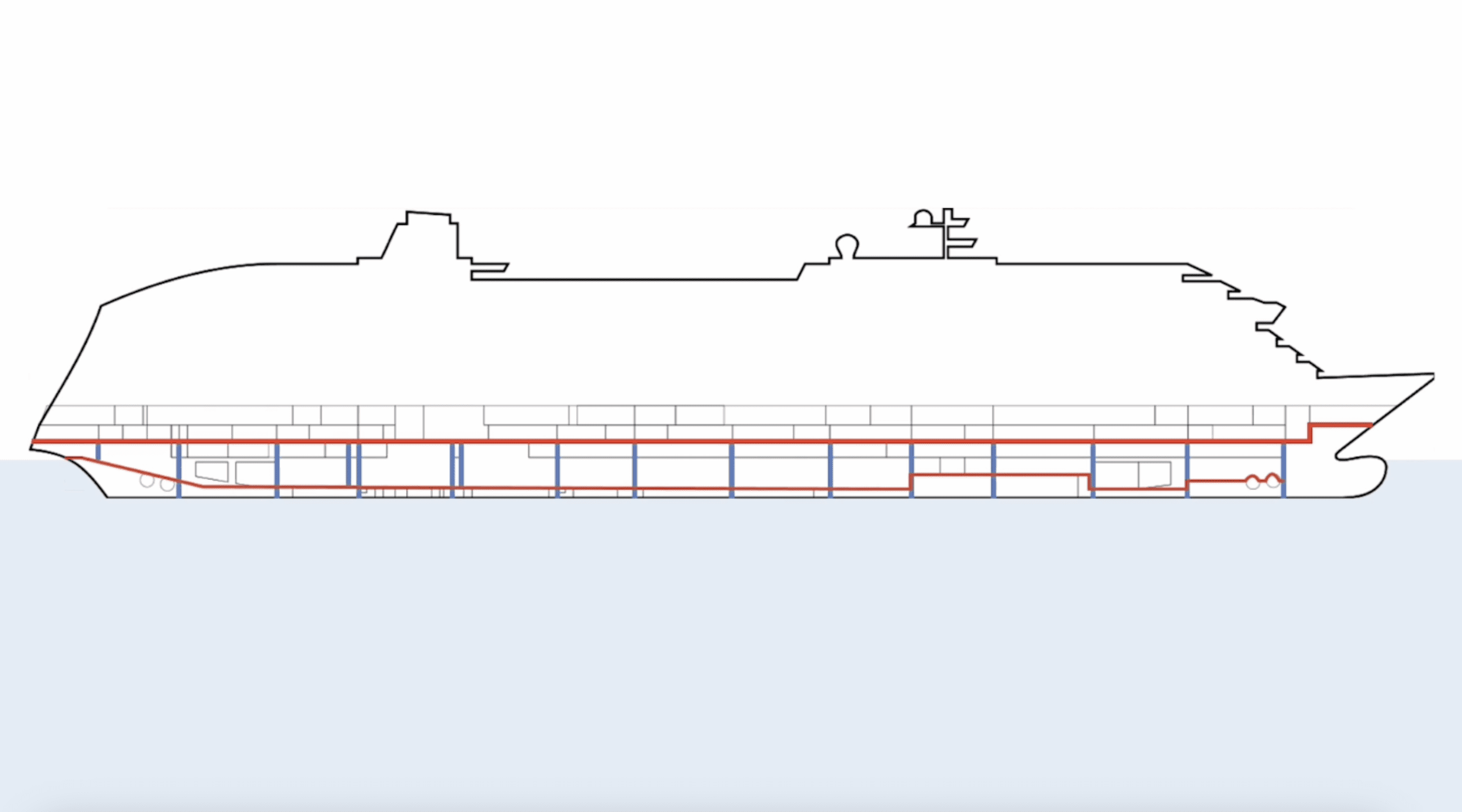 A real-life scenario
Let us consider a simulated case where a small cargo ship unexpectedly collides with a cruise ship, breaching the hull and causing flooding in two watertight compartments. Thanks to NAPA's advanced decision support system, an alarm promptly signals the detection of flooding, switching the monitoring mode to provide immediate assistance. Using data from water level sensors, breach size and location, and a detailed 3D model of the ship, the system accurately predicts the progressive flooding trajectory.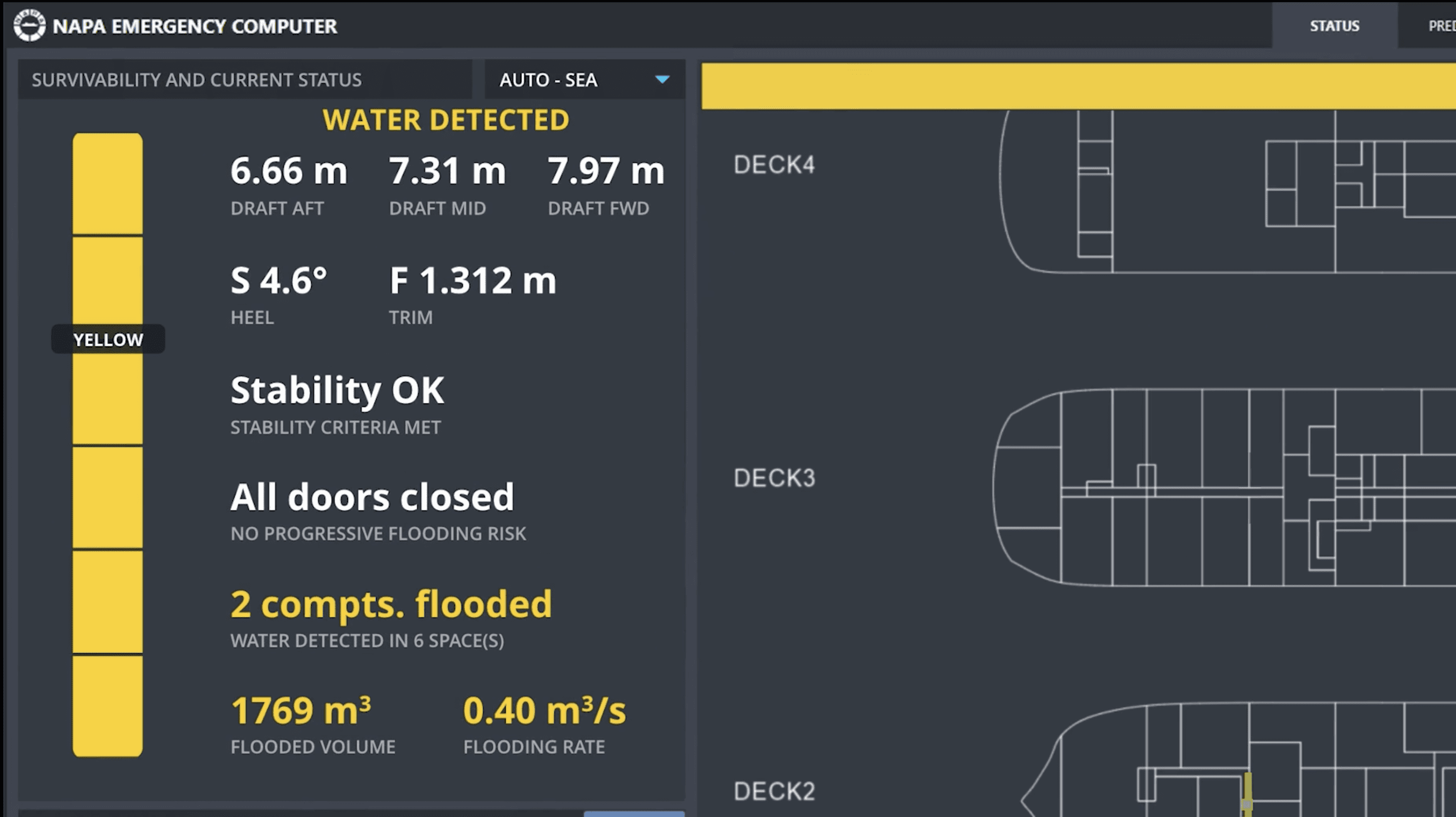 Color-coded communication
In such critical situations, effective communication plays a pivotal role. To keep all stakeholders informed about the safety status of the damaged ship, NAPA's emergency management systems use a vessel triage framework that utilizes a color code. Green indicates that the ship is safe and capable of reaching the nearest port independently. Yellow signifies a safe but potentially worsening situation, while red demands immediate action, including ship abandonment. Black is used to denote the unfortunate loss of the vessel. 
Real-time ship-and-shore collaboration
Recognizing the importance of collaboration between onboard crew and shore-based experts, NAPA has also implemented a cloud-based service that enables real-time sharing of crucial data, such as loading conditions and real-time and dynamic damage assessments. This 24/7 support system facilitates informed decision-making in critical situations. Immediate expert guidance combined with onboard advanced decision support systems empowers captains to make informed choices that prioritize passenger safety.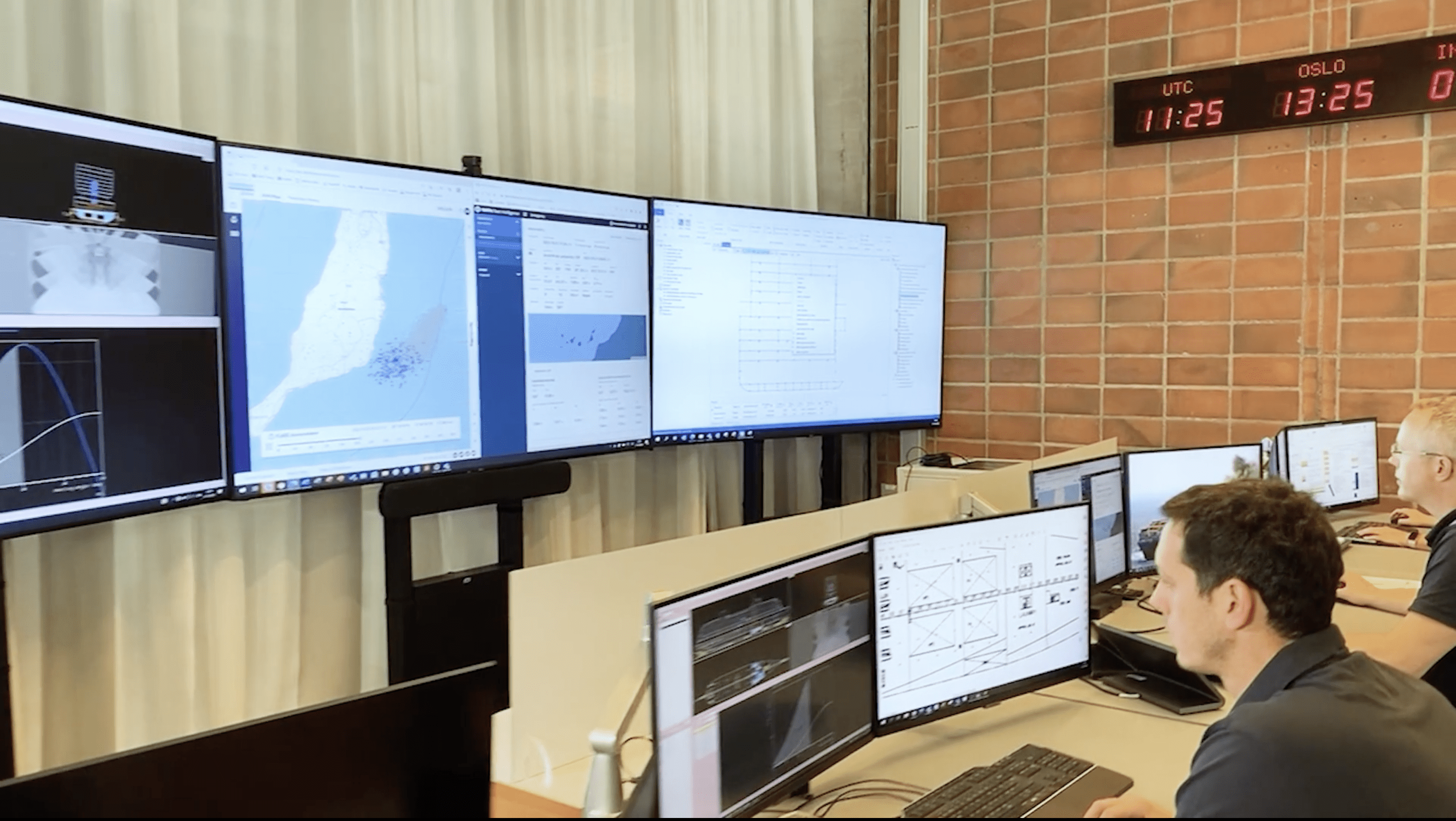 A successful outcome
In the case of the aforementioned simulated collision, the decision support system predicted that the situation was under control, with no progressive flooding into undamaged compartments. Although the damaged ship experienced significant tilting, the flooding remained confined to the breached compartments. This assurance led to a change in the vessel triage color code from yellow to green, indicating that it was still safe for passengers to remain onboard.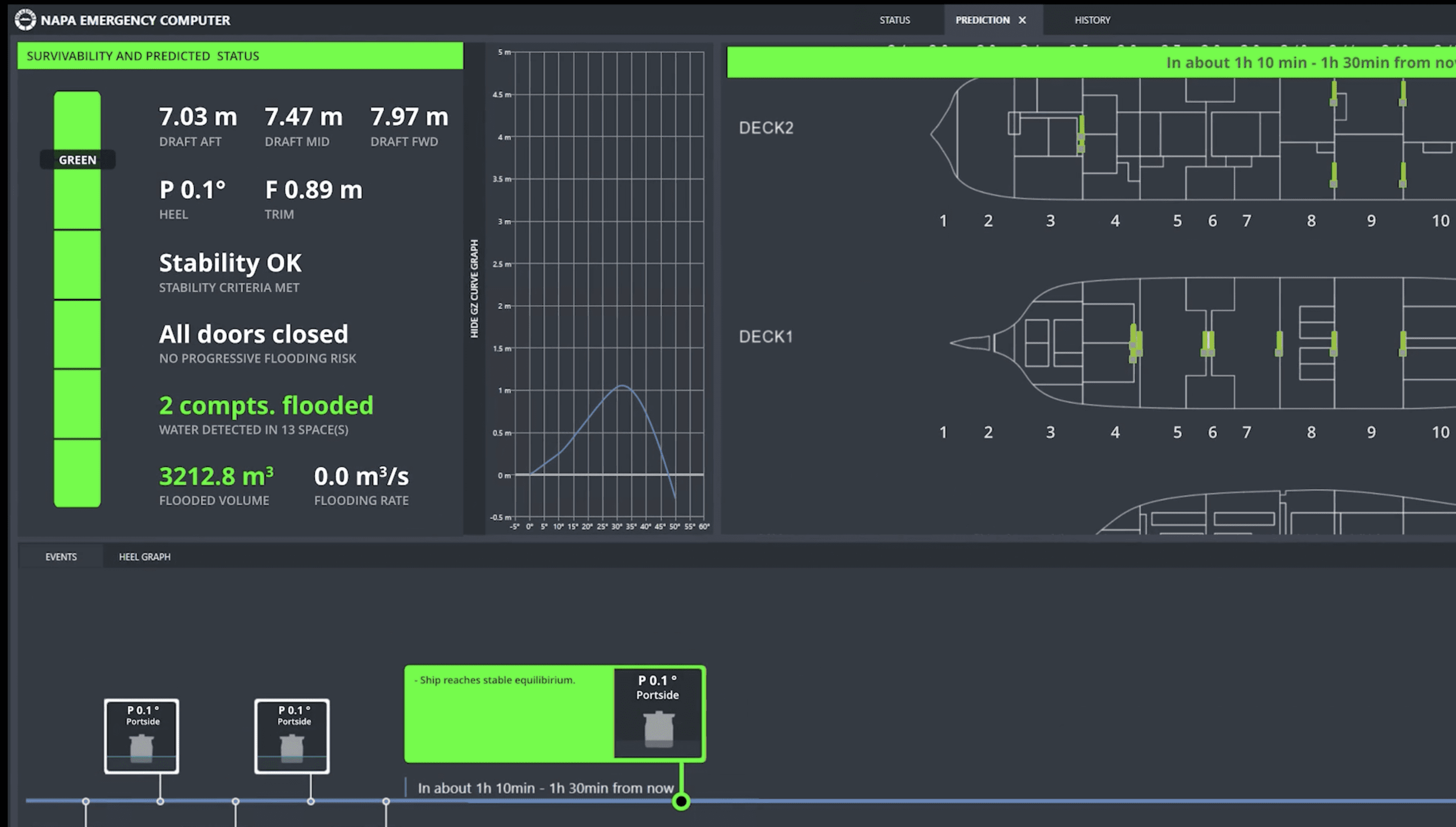 As the damaged ship continued its journey to the nearest port, the onboard advanced decision support system and improved situational awareness played critical roles in ensuring passenger safety. NAPA's proactive approach to preventing and mitigating flooding accidents has heralded a new era of maritime safety, setting a benchmark for the industry. As technology evolves, these innovative solutions will continue to protect millions of passengers who embark on unforgettable voyages across the seas. 
---
Want to know more?
Get in touch with our experts to hear how NAPA can help you, or start by reading more about our solutions for shipping safety.