NAPA Fleet Intelligence wins The Solution of the Year award at Fathom's Smart Ship Awards 2017
Singapore, 1 December 2017
The winner of the smart service or solution award is NAPA, the digital software company for its recently released NAPA Fleet Intelligence solution. This is the industry's first web service that provides fleet owners with access to operational insights without the need for costly and laborious on-board installations. Learn more about our award-winning solution: https://buff.ly/2ilNXQN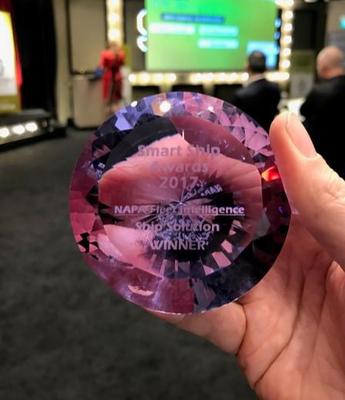 The shipping sector is under increasing pressure from all directions. Charterers, shipowners and managers must resolve dozens of conflicting priorities on a daily basis. Productivity, efficient operations, transparency and close scrutiny of costs are more important than ever. Yet, for owners with limited liquid assets and charterers with short term contracts to it is neither easy nor cost-effective to install and implement on-board performance monitoring.
A web-based service, NAPA Fleet Intelligence offers cash or time-constrained shipowners and short and medium-term charterers access to highly accurate voyage-by-voyage vessel performance monitoring to help control vessel efficiency and profitability.
It combines vessel design information with remote-sensed data such as AIS, chart data and environmental data, incorporating algorithms and hydrodynamic calculations developed by NAPA's in-house ship operations data and analytics experts, based on detailed ship performance models for each vessel type. These calculations are based on over 300 hull form models.
This tool brings the power of data-driven business decisions to a wider segment of the industry than ever before. Even the smallest of stakeholders, who may not have the capital to invest in Big Data solutions or on-board monitoring tools, can benefit from data-led insight.
Delivered in a single format for all chartered vessels, regardless of the on-board systems installed, NAPA Fleet Intelligence also helps to deliver a more consistent approach, allowing management of a more efficient and cost-effective chartered fleet.
NAPA Fleet Intelligence has helped to quantify many of the most significant issues facing the shipping industry today. For instance, its ability to track fuel consumption has helped build up a picture of a phenomenon termed "Rush to Wait", whereby 18 billion USD is being lost by shipping business annually.
Fuel is wasted as vessels rush to reach the port on time, often having to wait because they arrive too early or if there's a last-minute port delay. As part of its monitoring capabilities, NAPA Fleet Intelligence is able to calculate the optimal speed profile as well as whether the cargo capacity is being used optimally – both factors that have a significant impact on a vessel's overall carbon emissions and efficiency. As such, NAPA Fleet Intelligence can be used to help overcome common challenges.
NAPA Fleet Intelligence reports have been verified against real-world ship performance data collected by NAPA's on-board vessel performance monitoring systems, and accuracy was found to average around 95%. This high level of accuracy enable owners, operators and charterers to quickly assess fleet efficiency and make confident, informed decisions on how to improve it further.
IN SHORT
Launched in June 2017, NAPA Fleet Intelligence is the industry's first cloud-based web service that provides fleet owners, operators or charterers with access to operational insights without the need for costly and laborious on-board installations.
In recognizing that 90% of the global fleet is still without access to vessel performance monitoring and in understanding the pressures faced under the current financial and upcoming regulatory climate, NAPA's new concept for data monitoring requires zero installation, zero hardware, zero disruption and zero input from the ship operator.
NAPA Fleet Intelligence reports, which have a verified accuracy averaging 95%, offers quick and easy access to performance monitoring information that helps fleet owners enhance the efficiency of their operations and boost their bottom lines.
It combines design information and remote-sensed data such as AIS, chart data and real-time environmental data with algorithms and hydrodynamic calculations developed by NAPA's in-house data and analytics experts. Its starting database of over 6.5 million voyages has been growing by more than 10,000 voyages daily.
The final report shows highly accurate voyage-by-voyage data on the route taken, speed profile and fuel efficiency, as well as what the optimized speed profile would have been.