Internationalization Award of the President of the Republic of Finland to the NAPA Group
Helsinki, Finland 19 February 2009
Her Excellency Tarja Halonen, President of the Republic of Finland, has presented the 2008 Internationalization Awards to NAPA Group, Avant Tecno Oy and Sunit Oy.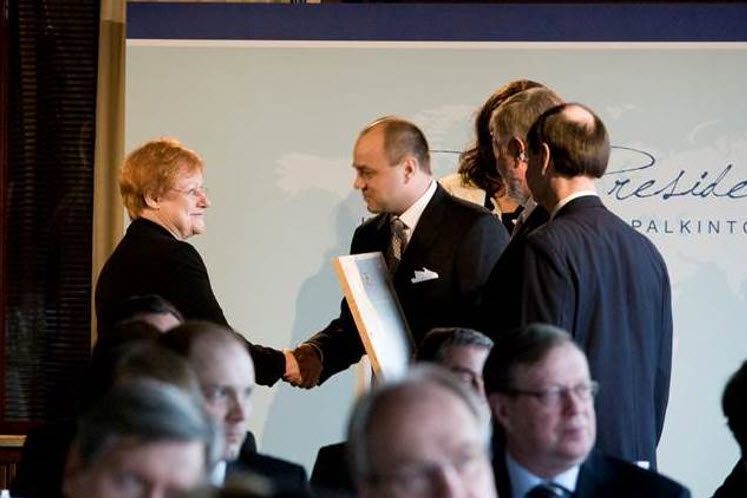 Today's ceremony was the 41st in the history of the award. The objective of the Internationalization Awards, which are coordinated by Finpro, is to help businesses to operate in an international environment and to boost their ability to develop and adopt new operating models.
The Award can be presented to a company or community that has actively participated in developing international Finland. The preparatory work and the choosing of the candidates for the Awards is done by Finpro in collaboration with the Association for Finnish Work. The Awards are donated by The Finnish Fair
Corporation.
Thanks to its clear and determined approach, the NAPA Group has been able both to achieve and to maintain a strong market position. Intense investment in personnel and product development ensures that the best possible expertise will be at the disposal of NAPA's growing clientele also in future.
"I wish to thank all NAPA Group personnel for their commitment and excellent work these past years. This is an award to everyone at NAPA", says Matti Salo, President of NAPA Group.
NAPA Group is today one of the the world's leading software houses in the global marine industry, supplying software systems for ship design and operation. NAPA software is used by more than 300 of the world's leading shipyards, designers, classification societies and authorities. The Onboard-NAPA software and NAPA Ships Performance Solutions (SPS) for ship operation, ensure safe and efficient operation for hundreds of ships operating the world over. Onboard-Napa Ltd has done almost 900 ship installations.