NAPA Steel increases design flexibility for Fosen Design and Solutions
By integrating NAPA software into its initial design phase, Fosen Design and Solutions, could easily take its models from 2D to 3D, laying the foundations for incomparable agility, fewer errors and a smoother overall design process.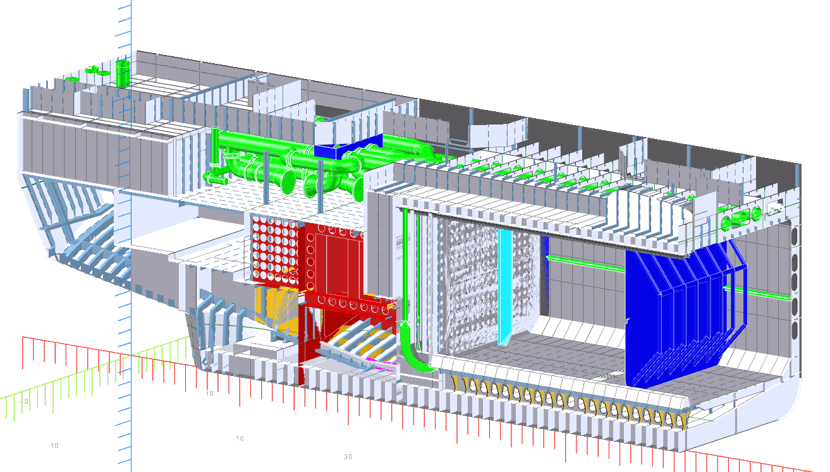 Background
From new buildings to conversions and refurbishments, Fosen Design and Solutions provides fully optimized products across a range of vessel types. With a history of designing vessels for the passenger and ferry sectors, Fosen has since diversified its portfolio, in line with market trends, to include the aquaculture industry, among others.
Fosen has used NAPA software in its design process to enable Naval Architectural calculations for decades. Following the pressing requirement for a software with 3D structure modelling capabilities, Fosen purchased NAPA Steel and NAPA Drafting in 2017, and hasn't looked back since.
Challenge
Fosen required 3D modelling software to use in initial and basic design stages. The software needed to be extremely flexible to support newbuilds, conversions and refurbishments across a wide range of vessel types.
The importance of an agile software platform has proven even more critical considering the global pandemic, which saw Fosen pivot from primarily designing ferries and cruise vessels to live fish carriers, following a growth in the aquaculture market. With live fish carriers tending to have intricate and large piping systems, software allowed the complex design manipulation needed to ensure precision and avoid errors.
Similarly, designing large cruise vessels required a solution that enabled Fosen to investigate structures extensively and view all individual compartments, which was difficult to access in 2D modelling.
Most importantly, Fosen's customers (the yards) required very detailed drawings. Any errors in the production design have the potential to lead to time consuming redesign that could impact and delay delivery time. Given the hard deadlines usually applied by the industry, and expectations around high levels of service, this should always therefore be avoided. Accuracy in the software, alongside regular updates in line with class rules, was therefore non-negotiable.
NAPA Solution
NAPA is the industry leader in ship design software, with over 90% of newbuilds in the global fleet built by NAPA's customers. NAPA has played a critical role in Fosen Design and Solutions structural and strength design process since Fosen's conception. However, the relatively recent integration of NAPA Steel into Fosen's basic and initial design phase has enabled the company to take a monumental jump from 2D to 3D design, subsequently enabling a host of new benefits.
Most significantly, 3D modelling has provided Fosen's engineers with a greater platform to detect issues before the design goes to production phase and the ability to work in one model; meaning everyone has the same information resulting in a reduction of errors. Likewise, having a high-quality, intricate 3D model allows Fosen to showcase the vessel product to customer like never before.
Fosen has made the most of the detailed design functionalities available in NAPA Steel, such as NAPA FE meshing. This enables engineers to model huge cut-outs in high stress areas and conduct time-efficient changes to intricate 3D models. The software also allows greater visibility of individual compartments in passenger vessels and vessels such as live fish carriers.
An example of where the accuracy and detail that NAPA FE analysis was applied successfully, was in the design of Color Line hybrid ferry, which to this date, remains the world's largest vessel of its type. As the steel weight – the initial contract weight, which was calculated with NAPA Steel, was kept until building finalization. The ability within NAPA Steel to track live weight was of great value.
"After joining Fosen in 2013, I recognised the need for a 3D design tool for steel. Since using NAPA Steel in our initial and basic design phase we have unlocked a new level of design capability and the ability to work on a range of differing and complex vessel types. My advice to anyone thinking of investing in NAPA Steel would be to do it sooner rather than later." // Dr. Sonja Zacke, Steel Department Manager, Fosen and Design Solutions
The level of accuracy is especially important in the aquaculture industry, which is less developed in terms of design in comparison to the passenger sector. NAPA's software provided advanced steel modelling to support piping, machinery, and class, and enabled the visualization of every element on a vessel.
As well as larger vessels, NAPA software has also enabled Fosen to work on smaller vessels, between 30-40 metres, without requiring further input from additional software. The level of detail in NAPA software is high enough that the production drawings were solely based on the NAPA Drafting, which further showcases its exceptional design capabilities. Likewise, the flexibility of NAPA software has even enabled Fosen to branch out of vessel design, with the company also using the software to design concept fish cages.
NAPA 3D CAD Exchange, a key functionality within the software, also ensures all designs can be captured in one attainable platform, with the application allowing NAPA model geometry to be shared with a larger group of stakeholders – including the ones without access to NAPA software.
Conclusion
In line with the evolving collaborative process between NAPA and Fosen, the initial argument to implement NAPA Steel into the company remains unchallenged and greatly valued. The initial weight calculation for every project pre-contract is conducted in NAPA Steel, depending on the available input, and is ready within days. Since the use of NAPA Steel, this initial weight calculation has never failed and remains important in increasing agility in the company's design process.
Would you like to get more information on NAPA Steel?
Book a NAPA Steel demo