Did you know that more than 90% of the ships built yearly are designed by NAPA customers?
Our solutions play a significant role in the global shipbuilding industry, where NAPA brand is well recognized. We are now looking for a Sales Manager to join our global team of professionals and develop long-term relationships and connect with business executives and stakeholders within ship building and design companies in Europe. This position also provides appropriate feedback to product development to influence current/future portfolio roadmaps and strategy.
This role's home base is Helsinki, Finland and the role also requires travelling. There could also be an option to work from Germany.
The products – With NAPA #ShipHappens!
NAPA is a leading provider of a comprehensive 3D model-based ship design software suite, trusted by over 400 maritime organizations globally.
Our solution brings unrivaled value to our clients to ensure safe, efficient, and competitive vessel designs. Our main customers range from the biggest shipbuilding companies in the world to classification societies and small engineering companies.
The growing NAPA family
You will work in the NAPA Design Solutions' sales team and teams responsible for business development, product development and management, and marketing. 
NAPA's history started more than 30 years ago, and so did many of our customer relationships. That's why we consider our customers around the world as a part of the NAPA family. We stay connected, arrange training, webinars, and user events globally.
You can get to know some of our customers by reading our case studies.
As a Sales Manager your main responsibilities and tasks are: 
Development and execution of strategy for the entire territory to secure short and long-term revenue targets. 
Be the primary point of contact and build long-term relationships with customers.
Continuously demonstrate value to customers by developing a trusted advisor relationship with key customer stakeholders
Prepare sales presentations, contracts and proposals 
Lead contract negotiations
Meet the set revenue and growth targets by developing business within the territory (with the team)
What skills are expected for the perfect match?
Relevant education, such as B.Sc or M.Sc. in Engineering. Having Naval Architecture education would be amazing.
Experience in sales, account management and/or marketing of SaaS (software as a service) products
Prior experience with delivering client-focused solutions based on customer needs
Demonstrated leadership showing strong accountability, ownership and ability to effectively lead a team in pursuit of shared goals in a self-managed organization
Fluent spoken and written English skills

Knowing any European languages is a plus
We are looking for a self-motivated, results-oriented individual who has a passion for learning new things. Your home base is Helsinki, Finland but the role also requires travelling. There could also be an option to work from Germany.
NAPA as an employer
Meaningful work
We are proud to play our part in creating a sustainable world, and a career at NAPA means working with a purpose. We focus on building the best possible products for our customers, with whom we have close and long-lasting relationships. We protect the environment and human life at sea by powering safer and greener vessels with our technology.
Self-management
We are a self-managed organization. Everyone is here to help and guide each other, but you're your own boss. We have a coaching culture and we offer plenty of options to support personal growth and share knowledge. The core elements of our self-management philosophy are trust and transparency. We trust our employees to make the right decisions and nurture their personal growth. Everyone can manage their own working time. You can work at the office, from home or even while abroad.
Enjoy working together
…is one of our core values. Respecting each other provides a healthy and pleasant working environment. We, as NAPArians, share our knowledge and help each other when needed. At NAPA, you will meet people from many different cultures and with fun interests. Some of us enjoy a cup of fine coffee, swimming in the ice-cold waters, orienteering, cycling, online games, knitting, sailing, you name it. We are a diverse family with a shared goal.
No need to say that NAPA takes excellent care of its employees. We have various employee benefits and flexible working hours. Every new Naparian has a NAPA buddy to support you during the onboarding phase.
Read more about our #NAPAway of working, people, values, and culture: https://www.napa.fi/careers/

Ready to get on board and join the NAPA crew?
We kindly ask You to send your application and CV by 4 December 2022. The position will be filled as soon as a suitable candidate has been found.
For more information about the position, please get in touch with Tommi Kurki (Sales Director), by e-mail: tommi.kurki@napa.fi
In its over 30 years of operation, NAPA has become a global leader in developing and scaling software, services, and data analysis for a safer, smarter, and more sustainable maritime industry.
NAPA operates globally, with 190 employees in ten countries in Europe, Asia and the Americas. To date, NAPA has 420 user organizations for its design solutions, nearly 3,000 installations onboard vessels and a growing number of subscribers for its cloud-based fleet services.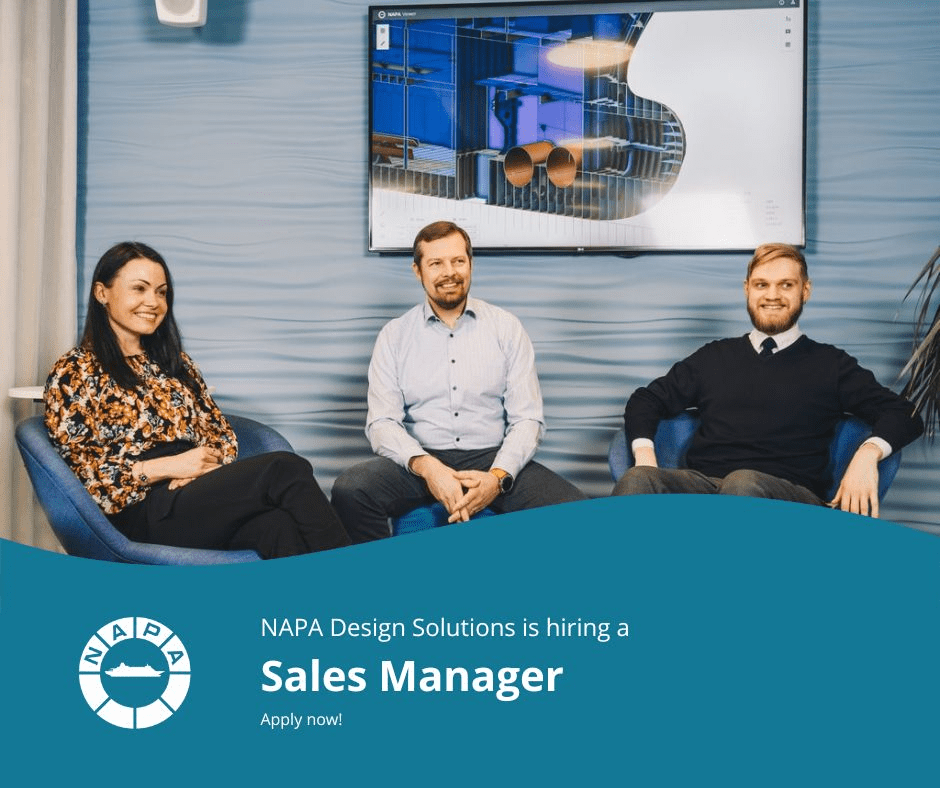 Some of your colleagues
Joonas Kuusela
Sales Manager
Mikko Forss
EVP, Design Solutions